A Glimpse of the TMH Golden Gala
TMH Foundation and Tallahassee Magazine partner for a preview and pop-up party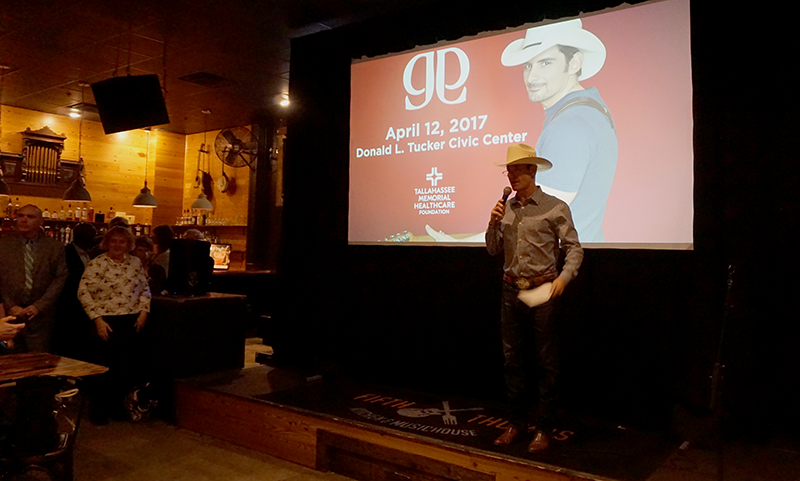 Mickey Moore, president of the Tallahassee Memorial HealthCare Foundation, is the type of guy who can successfully wear almost anything. On the job, he can be found in a well-tailored suit and a stylish tie. On Tallahassee Magazine's January/February cover, he sports running gear. And on Jan. 19, he donned Western wear including a large cowboy hat for the TMH Golden Gala Preview Party.
The evening marked the first time that TMH Foundation partnered with Tallahassee Magazine in throwing a preview party.
The hat foreshadowed the evening's big reveal. Not long after Moore sauntered up to the microphone on the stage at Fifth & Thomas, he introduced a video that served to announce that chart-topping country star Brad Paisley will be the 2017 Golden Gala performer.
The goal of the fun-filled night was to generate buzz and excitement about the Golden Gala, scheduled for April 12 at the Donald L. Tucker Civic Center, and to celebrate the arrival of the first 2017 edition of Tallahassee Magazine. Attendees enjoyed a night of music, savory bites and libation sipping and were led to reflect on TMH's contributions to our community.
As guests arrived and checked in, they received guitar picks that served as complimentary drink tickets. The featured drink of the night was, "The Perfect Storm," which fans of country music recognized as the name of a popular Paisley song. The drink included Tallahassee Magazine's featured libation for January/February, bourbon.
Waiters and waitresses circulated about the restaurant and tempted guests with a host of appetizers: fried oysters with sriracha citrus remoulade; cheese straws; bourbon balls; crabby puppies (hush puppies laced with crab meat); mini buttermilk biscuits with country ham and rosemary fig preserves; fried green tomatoes with Vidalia onion relish and skewered pickled vegetables (okra, beets and cucumbers).
While guests mingled, Mickey Abraham and his talented band supplied tunes that complemented the scene perfectly.
Anticipation grew as Moore spoke about TMH's mission; advances including the use at TMH of the world's smallest Pacemaker and then the Gala, which is celebrating its 34th year and is the hospital's largest fundraiser.
"It's a fun event and people have a good time, but the important part is, it supports what we do at TMH everyday," Moore emphasized.
Moore welcomed honorary Gala chairs Brian Rowland, publisher and president of Rowland Publishing, and his wife, Cherie a licensed clinical social worker. They thanked TMH for its continuing partnership with RPI and acknowledged the hospital's life-changing and lifesaving contributions to the community and its residents.
TMH president and chief executive officer Mark O'Bryant made the final remarks of the night.
"We are thrilled to have the gala, not just to raise money, but as a thank you to the community for all that you do in support of us," O'Bryant said.
Guests were invited to dance and dine into the night and to be sure on their way out to grab a swag bag, which contained the latest issue of Tallahassee Magazine, a TMH Golden Gala form, a TMAG koozie, guitar picks and information about Fifth & Thomas.
Many left looking forward to April 12 and what will be one of the top and most purposeful social events of the year.
---
For more information about the TMH Golden Gala visit: www.TMHGoldenGala.com
For more information about Fifth & Thomas, their menu and upcoming music performances visit: www.fifthandthomas.com
---