Tears & Cheers Adorn Top Salon Devotees
A large crowd gathered on Saturday, Feb. 20, at The Moon nightclub, which had been made fit for the most extravagant of fashion shows.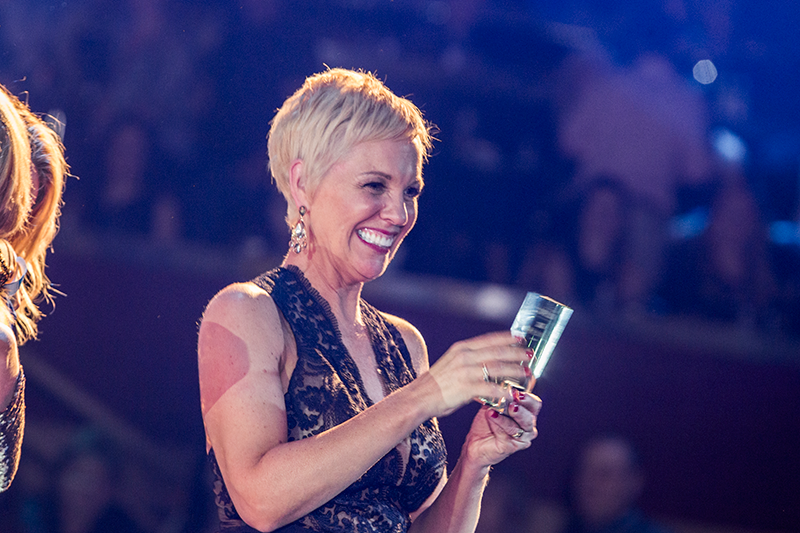 2016 Top Salon: Sucré Beauty Bar
Fan Favorite: Chelsea Salon & Spa
First Runner-up: JS Hair Lounge
Second Runner-up: Soleil 7 Hair Salon
A large crowd gathered on Saturday, Feb. 20, at The Moon nightclub, which had been made fit for the most extravagant of fashion shows. Hundreds of people came together first for a cocktail hour and noshed on irresistible hors d'oeuvres provided by Social Catering. Soon, the lights were dimmed, video screens came to life and all, buzzing with anticipation, were welcomed to the 2016 Top Salon competition and charity fundraiser.
Judges and event sponsors were recognized and a 2016 Humanitarian Award was presented to Tallahassee Community College President James Murdaugh following a TCC-produced video that outlined Dr. Murdaugh's contributions to the community. 
Each salon, their model and chosen charity were introduced through filmed interviews, which revealed tender moments and meaningful relationships that developed during the transformational makeover process.
The stunningly transformed models took their turns taking the stage immediately after the audience saw their "before" photos displayed. Each exuded confidence gained from the training they received from esteemed modeling coach Marsha Doll and reinforced by fashion-forward clothing provided by Narcissus. 
In preparation for the event, long-time presenting sponsor Dr. Russell Rainey provided models with complimentary teeth whitening services. Sweat Therapy contributed health and fitness coaching, ensuring that models were in top shape. Thrive Hydration provided IV wellness treatments and Tallahassee Plastic Surgery Clinic contributed clinical facials. 
A sense of camaraderie overtook the competition as each model received an abundance of applause and support. One model and salon in particular seemed to unify all. Chelsea Salon and Spa's model, Kim Stephens, who has lost her hair due to chemotherapy for breast cancer, stepped from behind the shadow box and removed her blonde wig before proceeding down the catwalk. The room erupted with applause and a standing ovation as everyone recognized that true beauty resonates from within. 
Chelsea Salon's owner, Mary Fannon, in what proved to be another uniting moment, was later called on stage for a group photo that included her and the many hairstylists throughout the room who have trained under her.
Once each model had made her final walk, voting commenced via text messaging. During this break attendees grooved to the hit tracks played by DJ Greg Tish. While votes were being tabulated, the audience enjoyed a dynamic fashion show featuring Marsha Doll models sporting swimwear and spring styles by Narcissus, with hair and make-up by the talented stylist, Lindsey Young. 
Finally, as a hush fell over The Moon, the winners were announced:
Second Runner-Up was awarded to Soleil 7 Hair Salon whose model beamed with a bouncy blonde bob and stunning floor-length black dress.

First Runner-Up went to JS Hair Lounge for their excellent styling of a fierce red angled bob atop their exceptionally poised model.

Chelsea Salon & Spa's inspirational model, Kim Stephens, who had captured the hearts of the crowd, brought home the first ever Fan Favorite award.

And, amid thundering applause, the 2016 Top Salon award was presented to Sucré Beauty Bar, a newly opened salon comprising young, enthusiastic artists Audrey Sweet and Samantha Horne, who wowed the crowd with their model's platinum blonde pixie cut, flowing black dress and electric smile. 
Tallahassee Magazine hosted a champagne toast on the terrace of The Edison restaurant on Tuesday, March 29, at 6 p.m. Salons, their models, sponsors and other attendees celebrated the success of the event and applauded the presentation of a check for $3,098 to Sucre's charity of choice, Big Bend Hospice. Proceeds from tickets sales and contributions from Tallahassee Magazine and Dr. Rainey added up to that amount.
In addition, the following charities received media sponsorships from Tallahassee Magazine: Big Bend Hospice, $5,000; Epilepsy Association of the Big Bend, $3,000; Florida Autism Center, $1,500; Susan G. Komen Breast Cancer Fund, $1,500.
The night was one characterized by positive energy resulting from hundreds of people genuinely coming together for a shared cause. While the competition was real and the artists were passionate, the overall purpose was clear: salons uniting to recognize and applaud the beauty of 12 deserving women. 
Live In Tallahassee! and AM Break with Ann & Audra's recap of the event
The 12 salons, their models and charities were:
Judges
Joseph Rodgers
R. Jai Gillum
Brittany Broward
Marsha Doll
Dr. Russell Rainey
Emcees
Dr. Nathan Kupperman
McKenzie Burleigh Lohbeck
Leigha Inman