2011 Best of Tallahassee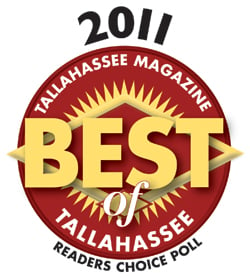 The readers have spoken. The votes have been tallied. It's official.
Best of Tallahassee 2011From Appetizers to Weight Loss, Our Readers Select Tallahassee's Finest in 100 Categories
Whether you're searching for stellar sushi or a red-carpet-worthy dress, finding the best place to get what you need can be difficult — if you go it alone. Thankfully, it's time to celebrate the Best of Tallahassee awards in 2011.
Some winners are reigning champs and others are new businesses or longtime underdogs who finally stepped it up enough to be named No. 1.
Either way, give these reader-chosen restaurants, service providers, shops and venues a shot — you're sure to be pleased.
Tallahassee Magazine is hosting an exclusive invitation-only evening of hors d'oeuvres and cocktails at Chez Pierre in early November to allow our Best of winners to pick up their trophies, bask in glory and celebrate their success.
Food & Beverage
APPETIZER – Bonefish Grill
With an innovative menu full of meals that promise to tantalize your taste buds from beginning to end, it's no wonder Bonefish was voted for having the best appetizers in town. Seems nothing can compete with their famous Bang Bang Shrimp — and you can get the app for five bucks all day long on Bang Bang Wednesdays. HONORABLE MENTION » Kool Beanz
ASIAN RESTAURANT – Masa
More than your neighborhood Asian restaurant and located in the popular Midtown area, Masa's Asian-inspired seafood and sushi dishes blend Eastern and Western cuisine, creating a happy medium that keeps readers voting it as a perennial Best of winner. HONORABLE MENTION » Azu
BAKERY – The Cake Shop
Voted "Best Bakery" for the second time in a row, the Cake Shop conjures sweet memories of grandma's kitchen on a sunny afternoon. Indulge your sweet tooth with homestyle cakes, gourmet cookies, breads, brownies, muffins and 18 flavors of cupcakes at its Capital Circle Northeast location. HONORABLE MENTION » Lucy & Leo's Cupcakery
BAR (TIE)
Level 8
This luxe rooftop lounge at Hotel Duval makes you feel like you're on the top of the world. Stake a claim on a chaise lounge and watch the sun set while sipping a "Cougarita" or one of their other signature cocktails served by some of the foxiest waitresses in town.

Midtown Filling Station
This joint is always jumping on weekends, with a high-energy crowd fueled by great drinks, food from the eponymous restaurant next door and exceptional live music.
BARBECUE – Sonny's Real Pit Bar-B-Q
If the family is hankering for the best barbecue the South can offer, look no farther than Sonny's, which serves the lip-smackin' real thing at its three Tallahassee locations. Beef, pork and chicken are all made better with Sonny's special sauces. Fixin's include corn and barbecue beans — and don't forget to wash it down with the sweet tea! HONORABLE MENTION » Piggy's BBQ
BREAKFAST – Another Broken Egg
Pretty much anything you can think of that can be put into an omelet is at this perennial Best of winner. Guests can choose fillings from bacon, cheese, tomatoes and ham to lobster, crawfish, scallions and grilled chicken for their eggs. And breakfast is on the menu all day long. HONORABLE MENTION » Canopy Road Café
BRUNCH – Another Broken Egg
After 10 years of being voted Tallahassee's best, it may be worth taking your lunch break a little earlier to give Another Broken Egg's brunch menu a try. With down-home options like the Classic Biscuit and Gravy, to entrees with a Mexican flair like the Huevos Rancheros, there's something to satisfy every late-morning craving. HONORABLE MENTION » Avenue Eat & Drink
CAJUN RESTAURANT – Coosh's Bayou Rouge
Laissez les bon temps roulez! The good times are rolling at this Cajun-themed restaurant. You can enjoy home-cooked jambalaya, red beans and rice, po'boys, crawfish etouffee, gumbo and other Louisiana signature dishes without taking the eight-hour drive to the Bayou State! On Saturday mornings, fresh-baked beignets are served. HONORABLE MENTION » Harry's Seafood, Bar and Grille
CARRYOUT/GOURMET TO GO – Your Secret Pantry
On-the-go moms facing the prospect of a long night at the stove or another bag o' burgers find Your Secret Pantry a dinnertime lifesaver. They've got a stockpile of nutritious meals for you to grab and go, heat and serve, or assemble to your family's liking. We suggest you try Grandmother's Chicken Pot Pie. It's yummy! HONORABLE MENTION » Fresh Market
CASUAL DINING (TIE)
Kool Beanz Café
The Red Elephant may be a veteran winner in this category, but Kool Beanz is a more upscale casual incarnation. The Modern American-style restaurant dishes out excellent food in a laid-back environment that encourages diners to "eat, drink, and talk loudly" — because you're among friends.
Red Elephant Pizza and Grill
It doesn't matter if it's after a Little League game or a lunch with co-workers. Whatever the occasion, Red Elephant is the perfect place for a casual meal full of good food with good friends. Not in the mood for their signature pizza? That's OK; Red Elephant also has chicken, steak and seafood options.
CATERING – Klassic Katering
Voted Best of Tallahassee for the past eight consecutive years, Klassic Katering is known for their creativity, cuisine, presentation and execution. The company's goal is to exceed your expectations and ensure a truly memorable event. HONORABLE MENTION » Mad About Food
CELEBRATION/SPECIAL OCCASION RESTAURANT – Cypress
Whether it's graduation, a birthday, an engagement or an anniversary, this sophisticated Southern-style restaurant is the place to celebrate. With their ever-changing menu, there is always something new to try. Just sit back, sip a glass of wine and celebrate with friends and family. HONORABLE MENTION » The Melting Pot
COCKTAIL/MARTINI – Level 8
An upscale lounge at the top of the town requires an equally upscale, sassy martini to go along with it. Level 8 has a new menu of exotic martinis to satiate the tastes of a chic clientele. Try the Wasabi Tini, a "dirty" martini with feta-Wasabi stuffed olives. HONORABLE MENTION » 101 Restaurant
COFFEE SHOP – RedEye
This java doesn't just help you have a better day, it helps many less fortunate have a better life. RedEye products are environmentally responsible and all their net profits go toward humanitarian efforts both locally and internationally. Who knew a simple cup of coffee could do so much? HONORABLE MENTION » Starbucks
DELI – Hopkin's Eatery
When you're hungry with little time to spare and looking for a healthy meal, Hopkin's Eatery is the place to go for delicious sandwiches and salads. Now with three Tallahassee locations, there's always one nearby. HONORABLE MENTION » Publix
DESSERT – Food Glorious Food
This restaurant could not have been more aptly named. Their 20-item dessert menu is chockfull of enough sweet dishes to make anyone toss their delusions of dieting out the window. The only disappointing thing about their desserts is that you have to wait until the end of your meal. HONORABLE MENTION » The Cake Shop
FAMILY FRIENDLY RESTAURANT – Red Elephant Pizza and Grill
The folks at Red Elephant have re-introduced the art of dinner conversation in a friendly, laid-back eatery that accommodates your taste buds without emptying your wallet to feed your herd. In addition to the funky critter portraits and low-key atmosphere, Red Elephant's menu offers an extensive array of reasonably priced items like boiled peanuts, pizza and salads. HONORABLE MENTION » Old Town Cafe
FAST FOOD – Chick-fil-A
Tallahasseeans don't go moo. They cluck for Chick-fil-A. This chicken restaurant is so popular, the Northeast Capital Circle location could use its own designated traffic control cop. With six local stores to choose from, (but never on a Sunday!) you won't miss out on your favorite chicken sandwich combo. HONORABLE MENTION » McDonald's
FINE DINING RESTAURANT – Cypress
Southern-chic Cypress just keeps on winning Best of honors, offering a creative variety of chef-cut aged meats, fresh seafood and locally sourced cheeses and produce. And for dessert? How about chocolate s'mores ice cream? HONORABLE MENTION » Avenue Eat & Drink
HAMBURGER – Five Guy's Burgers and Fries
If you stop in expecting an ordinary fast food burger, you're in for quite a surprise. Five Guys serves up delicious meals with fast food speed and prices. This burger joint uses only fresh ground beef — they don't even have freezers. With eight different burgers and 16 toppings, there are more than 250,000 ways to order a Five Guys burger. HONORABLE MENTION » Monk's/Wells Brothers Bar and Grill
HAPPY HOUR – Chez Pierre
Chez's daily Happy "Hour" last five hours, and on Fridays and Saturdays there are two of them. All feature specially priced drinks, so there's no excuse for not partaking of a cool libation in an utterly relaxing setting. HONORABLE MENTION » Level 8
HIBACHI – Osaka Japanese Hibachi Steakhouse and Sushi Bar
Have a seat and watch as your meal is prepared fresh on a tabletop grill at this northside Asian steakhouse. Enjoy the show, along with hibachi chicken marinated in their secret chicken sauce, scallops, steak, shrimp, and a variety of sushi, wraps and rolls. HONORABLE MENTION » Mori Japanese Steak House & Sushi Bar
ITALIAN RESTAURANT – Bella Bella
The eclectically decorated dining rooms of this locally owned restaurant are a feast for the eyes, but your tummy is sure to get its fill too with Bella Bella's freshly made salads and pasta dishes. Mangia! HONORABLE MENTION » Carrabba's Italian Grill
LOCALLY OWNED RESTAURANT – Kool Beanz
This neighborhood eatery on Thomasville Road offers unique gourmet meals in a vibrant setting of modern art and dark pastels. Internationally inspired dishes such as Cuban-spiced pork chops and Thai coconut curry make Kool Beanz a funky alternative to your typical candlelit dinner. HONORABLE MENTION » Avenue Eat & Drink
LUNCH – Hopkin's Eatery
If the leftovers from last night's dinner or a soggy salad for lunch aren't cutting it, a bite into a savory sandwich, pressed Cuban or club sub will surely do the job. Hopkin's variety of soups, salads, sweets and sandwiches can cause you to be a tad bit tardy returning from your lunch break, but the boss will understand. HONORABLE MENTION » The Crepevine
MEXICAN/LATIN AMERICAN RESTAURANT – El Jalisco
If you're craving some authentic Mexican flavor, one of El Jalisco's Tallahassee locations is the place to go. With their upbeat, all-day happy hour scene, you can enjoy their two-for-one margaritas, huge portions and great prices. HONORABLE MENTION » Pepper's Mexican Grill & Cantina
OUTDOOR DINING – Chez Pierre
Located in the heart of Midtown in a historic home, Chez Pierre serves up an atmosphere where good food and good friends mix perfectly under the stately oaks or on the climate-controlled porch. Kick back and relax while you listen to music and enjoy the happy hour that can last until 11 p.m. HONORABLE MENTION » Andrew's Capital Grill & Bar
PIZZA – Momo's
Truly, a slice of one of Momo's made-to-order, New York-style, hand-tossed pizzas is "as big as your head." The restaurant also offers calzones, salads and wings. Look for a brewery to open soon at the Market District location. HONORABLE MENTION » Decent Pizza
SEAFOOD MARKET – Southern Seafood
Looking for that perfect Alaskan wild salmon or mahi-mahi filet to throw on the grill? Or maybe some fresh Stone Crabs or Gulf shrimp? Boats of local fishermen are unloaded daily to provide the freshest finfish and shellfish in town. A perennial favorite, Southern Seafood has a wide variety of fresh seafood that will satisfy the most discriminating palate. HONORABLE MENTION » Spear's Seafood Market
SEAFOOD RESTAURANT – Bonefish Grill
Started in St. Petersburg in 2000, Bonefish is a seafood lover's haven, with an array of fish choices and signature sauces. While fish is the main attraction, lemon-basil chicken breast, filet mignon, Maryland crab cakes and fettuccine are mouthwatering alternatives. HONORABLE MENTION » Wharf Express
SPORTS BAR – A.J.'s Sports Bar and Grill
Watch the big game on one of the 50 TVs or projectors, or belly up to the bar with friends while you dive into a plate of hot wings. AJ's offers everything from the pool tables and dartboards of a typical bar to an open-air dance floor, live music and karaoke nights. HONORABLE MENTION » Miller's Ale House
STEAKHOUSE – Marie Livingston's Steak House
A popular local perennial favorite, Marie Livingston's uses USDA choice beef that's specially selected and aged to their specifications and cut daily. The fresh, homemade yeast rolls aren't bad, either. If steak's not what you're hungry for, try the slow-roasted prime rib or jumbo shrimp. HONORABLE MENTION » Shula's 347
SUSHI – Masa
Sushi enthusiasts and newcomers can unite at Masa. This trendy and modern Asian-inspired restaurant fuses cusines of the East and West and boasts the best sushi in town. If you think you don't like sushi, you've obviously never had sushi from Masa! HONORABLE MENTION » Osaka Japanese Hibachi Steak House & Sushi Bar
WINE LIST – The Wine Loft
Toast to a new love, job promotion — or to you simply being awesome — with fruits of the vine at this exclusive Midtown bar. Offering the only upstairs balcony bar in Tallahassee along with an intimate downstairs lounge, it's the perfect place to romance that special someone or socialize with others who have a taste for fine drink, just like you. HONORABLE MENTION » The Filling Station
WINGS – Wingstop
After being voted best wings in town for the fifth year in a row and selling more than two billion wings nationally, it might be time to jump on the bandwagon and become a Wingstop lover too. HONORABLE MENTION » Hobbit Hoagies
Service Providers
ACCOUNTING SERVICES – Carroll & Company
With more than 1,300 clients, four partners and 25 employees, Carroll & Company has been a trusted local partner to individuals and businesses since 1990. And the accountants are good neighbors too, supporting events such as the Big Bend Heart Walk and the Tallahassee Museum's Zoobilee. HONORABLE MENTION » Office Pro
AIR CONDITIONING/HEATING – Benson's Heating & Air Conditioning
No matter the season, the pros at Benson's are on call to help you keep your cool in the summer and stay toasty throughout the chilly months. They can replace that inefficient, power-sucking unit or keep your newer one in tip-top shape with a variety of service plans. HONORABLE MENTION » Barineau Heating & Air Conditioning
ALTERATIONS – Helga's Tailoring
Not every dress or suit jacket fits perfectly right off the rack. With 25 years of experience, Helga's will make sure you never have to go out wearing anything that makes you look less than your absolute best. HONORABLE MENTION » Design Alterations
ASSISTED LIVING FACILITY – Westminster Oaks
Ideally located on a beautifully wooded campus, Westminster Oaks combines established neighborhoods of detached villas with the comfort and luxury of mid-rise and garden apartment homes. Residents maintain the independence they desire while taking advantage of all the amenities and special services that allow them to enjoy an active lifestyle. HONORABLE MENTION » Cherry Laurel
AUTO REPAIR – Perdue's Automotive Center
If you're looking for an all-around good auto shop that can service all domestic and imported cars, Perdue's can't be beat. The shop is independently owned and operated, and inside you'll find great, reliable service and loyal customers who swear by the shop's mechanics. HONORABLE MENTION » P3 Automotive
AUTOMOBILE DEALER – Proctor Group/Honda
Proctor is a dealership that matches the quality of the vehicles it sells. Buying is a no-pressure pleasure. But the rubber really meets the road afterward, when you can count on Proctor to keep your car in tip-top shape with service that's second to none. HONORABLE MENTION » Champion Chevrolet/University Cadillac Buick GMC
BARBER SHOP – Renegade Barber Shop
Once again, Renegade has been chosen as the best barbershop in town. When the day has worn you out, this classic man cave will edge you back up again. With a friendly staff, nine locations and affordable prices, they've been keeping Tallahassee men looking their best for years. And they're happy to cut ladies' hair, too. HONORABLE MENTION » Sports Clips
CARPET CLEANER (TIE)
Miller's Carpet & Upholstery Cleaning
When you've got a stubborn stain that defies your best efforts, invite the Millers over. This family-owned company has been tirelessly dedicated to cleaning up messes in Tallahassee and the surrounding area for 12 years. Their promise is 100 percent satisfaction, fair prices and award-winning service.
Stanley Steemer
With its unmistakable big yellow vans, Stanley Steemer Carpet Cleaner has been serving households and businesses in Tallahassee for 29 years. The company offers cleaning for whatever's underfoot, including hardwood, tile and carpet floors. And if your ventilation system is dirty, Stanley Steemer will clean that, too.
CELL PHONE SERVICE – Verizon
All your calls are important. With the clearest reception and some of the most popular cell phones, it's no wonder everyone wants to be "in" with the Verizon network. HONORABLE MENTION » AT&T
CHIROPRACTOR – Dr. James Ryan Fenn
When's the last time your regular chiropractor asked you over for a recipe night? Dr. Fenn and his staff want to place you on a path toward whole health and fitness, not just pop your spine back in place. They focus on nutrition, minimizing toxins, maximizing muscle tone and mental well-being.
COMPUTER REPAIR/SERVICES – Aegis Computer Services
Whether you're a college student or professional powerhouse, there's nothing worse when your computer crashes in the middle of an important project. Aegis is here to save the day whenever simple troubleshooting just doesn't get the job done. HONORABLE MENTION » On Call Computer Solutions
DANCE STUDIO – Sharon Davis School of Dance
Aspiring dancers can learn ballet, en pointe, tap, hip-hop and lyrical in this creative environment. Classes range
from pre-k to teens. HONORABLE MENTION » Tallahassee Dance Academy
DAY SPA – Millennium Nail and Day Spa
After being voted Best Day Spa last year, Millennium kept on pampering their patrons and managed to hold on tightly to their title. Here, they offer everything from manicures and pedicures to full body massages to keep you beautiful and relaxed enough to make it through a busy week. HONORABLE MENTION » Body Wisdom
DENTIST OFFICE – Russell B. Rainey, DMD
A pineapple is the symbol of the dental practice and represents well the welcoming spirit of Dr. Rainey and his staff. Whether you're seeking routine treatment or a total "smile makeover," everyone in the office strives to assure the experience is anxiety free. HONORABLE MENTION » M. Darrh Bryant, DMD
DERMATOLOGIST PRACTICE – Dermatology Associates
These skin specialists help your skin look and feel good again both internally and externally. In a world where image is everything, Dermatology Associates helps their clients put their best face forward. HONORABLE MENTION » Southeastern Dermatology of Tallahassee
DRY CLEANER – Blue Ribbon Dry Cleaning
Your extra-special clothing deserves extra-special care. At Blue Ribbon, a family owned and operated dry cleaner, they take the time to make sure your clothes are cleaned properly. Their friendly staff guarantees satisfaction or they'll clean the item again for free. HONORABLE MENTION » Shamrock Cleaners
ELECTRICIAN – Seminole Electric
This team of Tallahassee electricians is standing by to help you with all your wiring needs, from simple outlets to breaker boxes. For more than 30 years they've worked hard to satisfy their clients, and you'll be happy you kept their number handy. HONORABLE MENTION » Lawson & Lawson Electrical Services
EMBROIDERY – M&M Monogramming
M&M can monogram the traditional towels and jewelry, but they're also ready to leave your mark on tote bags, photo frames, cars, cell phone covers … just about anything you want to let the world know is "mine, all mine." Their shop in Glendale Square on Thomasville Road is full of inspiration for gifts or a little something for yourself. HONORABLE MENTION » G. Willie's Uniforms
FAMILY PHYSICIAN (TIE)
Patient's First
It's nice to know there's a convenient place to go — without an appointment — when you're not feeling well or have a minor emergency. And when maladies strike outside of the 9-to-5, many of Patient's First's seven local offices offer extended daily and weekend hours.
Tallahassee Primary Care Associates
Locally based, physician-owned TPCA combines the personalized care of individual doctor's offices with the convenience and variety of diagnostic and laboratory services found in a large group practice.
FINANCIAL INSTITUTION – SunTrust Bank
When it's time for a new car, house or business, you need a bank you can trust. SunTrust is a stable financial institution providing excellent customer service that will be there for clients when they need them most. HONORABLE MENTION » Capital City Bank
FLOORING – Brian Barnard's Flooring America
At this family-owned business, two generations of Barnards work to supply their clients' flooring needs. The store features a large selection of wood, carpet, ceramic and vinyl flooring, and the staff will help you choose a look that matches the way you live, the look you want and your budget. HONORABLE MENTION » Southern Flooring
FLORIST – Blossom's Flowers
Whether it's a declaration of love and appreciation or an apology after a major screwup, when it comes time to say it with flowers, Blossoms is Tallahassee's choice. No matter the occasion, Blossoms' custom gift baskets and arrangements are sure to send the right message. HONORABLE MENTION » A Country Rose
GYM/HEALTH CLUB – Premier Health and Fitness Center
Premier isn't just about weights and treadmills. Members can choose from a variety of group classes, including Zumba, Pilates, yoga, spinning and aqua aerobics. Play care for kids, massage therapy, health screenings and a Tropical Smoothie Café are also housed in this one-stop fitness haven. HONORABLE MENTION » Sweat Therapy
HAIR SALON – Green Peridot
Recently named winner in Tallahassee Magazine's Top Salon contest, Green Peridot offers an abundant variety of TLC for women's beauty and men's grooming. Stylists are up on the latest styles, coloring techniques and treatments like the hair-smoothing Brazilian blowout. HONORABLE MENTION » Envy Salon & Spa
HOTEL – Hotel Duval
Swathed in black marble elegance and sophistication, this upscale boutique hotel has become the place to be seen. It's not only a hotel for out-of-towners, but its lounge, Level 8, has already become the stuff of Tallahassee folklore for its open-air patio setting and comfy couches. HONORABLE MENTION » Aloft
INSURANCE AGENCY – Demont Insurance Agency
When the chips — and the trees — are down and you're scrambling to rebuild, it's good to know that you're covered by a team that's got your back. Demont Insurance Agency is an award-winning service offering friendly brokers and a wide range of policies covering your boat, home or car. HONORABLE MENTION » State Farm
INTERIOR DESIGN FIRM – Julian Mathis Interior Design Inc.
The sale documents make it your house, but the design makes it your home. For the seventh year in a row, Mathis has been voted the best in Tallahassee in the interior design category. His goal is not to have people walk in and find his personality — he wants your style to shine through. HONORABLE MENTION » L.A.W. Design
LANDSCAPING/LAWN SERVICES – Esposito Lawn & Garden Center
The professionals at Esposito don't just cut your grass. They provide a comprehensive lawn maintenance schedule for every type of residence, apartment or office. They also offer insect and disease control, fertilizer, mulching, irrigation, ant service, stump grinding … the list goes on and on. HONORABLE MENTION » Dickerson Landscaping
LIMO SERVICE – Mike's Limousine
No matter what the occasion — wedding, prom, party, birthday — Mike's has the vehicle to fit the bill, from a 36-passenger Taboo Party Bus with a 2,000 watt stereo system to a 40-foot luxurious "land yacht" bus. There are more than 28 vehicles to choose from, including a hot pink Hummer. Travel and party in style with Mike's. HONORABLE MENTION » Classic Limo & Sedan Service
MOVING COMPANY – Mike's Moving
You never realize just how much you own until its time to pack it all and move it across town. When you need to move, don't be stressed out at the idea of your only friend with a truck breaking your valuables — not to mention the heavy labor. Instead, trust Mike's. HONORABLE MENTION » A.M.W.A.T. Moving
NAIL SALON – Royal Nails and Spa
Sip on a glass of wine while you get your pedicure — or watch the flat-screen televisions as the friendly staff polishes up your manicure. Each station is personalized and dedicated to catering to your needs. HONORABLE MENTION » Millennium Nail and Day Spa
OBSTETRIC/GYNECOLOGICAL PRACTICE – North Florida Women's Care
Dozens of doctors on staff are dedicated to providing outstanding women's health care. Services for high-risk and normal pregnancies and consultation on infertility are also offered. HONORABLE MENTION » Bert Morales, MD
PAINTER – Superior Painting
Whether you want drywall repairs, interior or exterior painting or wood staining, custom garage doors, crown molding, pressure washing and wood rot repair, "no job is too small or large." Superior — a Best of winner for the fourth year in a row — prides itself on customer service and affordable prices. HONORABLE MENTION » Marlin Coating Inc.
PEDIATRIC PHYSICIAN – Tallahassee Primary Care Associates
The TPCA practice includes family doctors as well as specialists, including pediatricians who look out for the health care needs of our precious and vulnerable little ones. HONORABLE MENTION » Tallahassee Pediatrics
PEST CONTROL SERVICE – Capeluto Termite & Pest Control
When the pesky critters show up in the cupboard or boardroom, give Capeluto a call. They've been stomping out pests in the Tallahassee area since 1964 and feature the most innovative and effective pest control services available. HONORABLE MENTION » Paul's Pest Control
PHOTOGRAPHER – Dina Ivory
Master Photographer Dina Ivory doesn't just snap photos of kids or families. She creates timeless treasures of life by preserving those fleeting special moments. Look to her to capture your baby's first toothy smile or an elegant family portrait. HONORABLE MENTION » Inga Finch
PULMBING SERVICE – Keith McNeil Plumbing
When the old plunger or wrapping duct tape around a burst pipe won't cut it, McNeil's is on call. It's the largest plumber in Tallahassee with 24-hour availability, offering service to residential and commercial properties. HONORABLE MENTION » White's Plumbing
REAL ESTATE AGENCY/AGENT – Gary Bartlett Real Estate
Moving to Tallahassee in 1997 originally as a WCTV news anchor and now working as a fulltime broker, Bartlett commits himself to making you fall in love with the city just as much as he did. First-time homebuyers and sellers will receive superb service that will surely lead to your dream home. HONORABLE MENTION » Jason Picht, The Naumann Group
ROOFING REPAIR/SERVICES – Tadlock Roofing
While having a new roof installed or repaired is a rare occasion for most of us, the friendly and knowledgeable staff at Tadlock's is on hand to guide you and make the process as painless as possible. The on-staff roofing crew is fast and tidy — aside from that gleaming new roof, you'll never know they were there! HONORABLE MENTION » Tallahassee Roofing
SECURITY SYSTEM – Safe Touch
"I hate Safe Touch!" screams the comedic thief in the Safe Touch commercials. With good reason — Safe Touch features a 45-second guaranteed response time and two-way voice communication activated when the alarm is triggered. Your home and office are in safe hands with Safe Touch. And the rates are good, too. HONORABLE MENTION » Sonitrol
SURGICAL PHYSICIAN – Southeastern Plastic Surgery
If the Cosmo look you want is getting harder and harder to achieve, have no fear. Doctors Ben Kirbo and Laurence Rosenberg and skin care experts at Southeastern Plastic Surgery are here to help you fight the crow's feet, sagging chin, droopy eyelids and other battles in the war on aging. HONORABLE MENTION » Tallahassee Plastic Surgery Clinic
TANNING SALON – Wolff Tan
There's nothing worse than farmer tan lines when wearing your favorite strapless dress. When time isn't on your side and the Florida sun can't get the job done the way you need it, go to Wolff Tan for a nice, even sun-kissed glow. Their monthly deals fit perfectly into any college student or professional budget. HONORABLE MENTION » Sun Bunny Tan
TREE SERVICE – Miller's Tree Service
Trees and Tallahassee — they just go together. Miller's, a three-peat Best of winner, helps you keep yours in tiptop shape with trimming and pruning services by experienced pros. And if a tree should topple, the licensed and bonded company is on call with the right equipment to provide emergency services. HONORABLE MENTION » ArborWorks
VETERINARY CLINIC – North Florida Animal Hospital
Your pets are a part of the family; treat them to the best care in town. With wellness care, dental care, surgery suites, weekend kennels and sophisticated diagnostic and therapeutic equipment, this clinic has the amenities and services to take care of your pets' needs — even exotic animals. HONORABLE MENTION » Novey Animal Hospital
WEIGHT LOSS/CONTROL PROGRAM – Weight Watchers
Whether you do it online or attend any of the many weekly meetings held around town, Weight Watchers offers a tried-and-true method to slim down to a more beautiful and healthy you. Lose weight without feeling deprived while eating a balanced diet filled with fruits and vegetables but where no food is considered off limits.
HONORABLE MENTION » FIT Weight Loss & More
Shopping
ANTIQUE SHOP – Sally Rude Antiques and Fine Art Gallery
For another consecutive year, the Sally Rude's has been chosen as the best antique shop in town. If you're in need of 18th, 19th and 20th century pieces from American and Europe, this is the best place in town to start your search. The mother-daughter owners also take requests from customers and promise to let you know the second they find what you're looking for. HONORABLE MENTION » Good Finds
FURNITURE STORE – Turner's Fine Furniture
Hooray! After leaving town for a few years, Turner's has brought its quality furniture, huge selection and super service back to a convenient location just north of the state line between Tallahassee and Thomasville, Ga. HONORABLE MENTION » Ashley Furniture
GIFT STORE – My Favorite Things
This store is a bride's — and a gift giver's — dream-come-true. From Villa Vietri linens and table accessories to Waterford crystal, collectibles and china, My Favorite Things' distinctive pieces will add the perfect touch to any home. HONORABLE MENTION » Textures Handmade Market
JEWELRY STORE – The Gem Collection
With a dazzling selection of solitaires and settings, this truly is "where Tallahassee gets engaged." You'll also find some of the hottest names in jewelry and accessories — including Rolex, Pandora, Tacori, Scott Kay and Alwand Vahan — in the Gem Collection's can't-miss-it salmon-colored building. HONORABLE MENTION » Robert's Jewelry & Design
KIDS CLOTHING – Pink Narcissus
Lily Pulitzer offers miniature versions of the chic women's collection at this Market Street boutique. Match up with your little girl in "mommy and me" outfits called "minnies." Dress styles appropriate for every activity from church to a play day at the park are also available, along with floral pattern and bright-colored cardigans, skorts, rompers and tops. HONORABLE MENTION » Textures Handmade Market
LOCALLY OWNED SHOP – Narcissus
Local businesses provide jobs and stimulate the economy and, over at Narcissus, they're doing it with lots of style. With two locations, this high-fashion women's boutique brings New York designer style to the streets of Tallahassee. HONORABLE MENTION » Cole Couture
MEN'S CLOTHING – Nic's Toggery
Nic's has been the place for men's clothes in Tallahassee for more than 50 years. Then, as now, a tailored suit is the hallmark of the distinguished gentleman, and the store's consultants are eager to help you choose the professional clothing, shoes and accessories that work for you. HONORABLE MENTION » Olde Fields Clothing Co.
NURSERY/GARDEN CENTER – Tallahassee Nurseries
With its shady arbors, soothing fountains, brick pathways and beautiful gardens, Tallahassee Nurseries ought to be a tourist attraction. As it is, it's one of Tallahassee's oldest garden centers and offers its customers everything they need to make their yards come alive with color and scent-sations. HONORABLE MENTION » Esposito Gardening Center
OPTOMETRY/EYEGLASS STORE – The Hour Glass
Time for new glasses? The Hour Glass is ranked as one of the nation's top 40 optical retailers and is a local favorite. The eye specialists here offer full-service, state-of-the art facilities, comprehensive eye exams and, in case of an eye emergency, there's a doctor on call, too. HONORABLE MENTION » Tallahassee Eye Associates
WOMEN'S ACCESSORIES/SHOES – Narcissus
Forget diamonds; shoes are a woman's real best friends. Whether you're just dressing up a pair of jeans or trying to show off your long, lean legs and killer calves, a good pair of heels can work wonders — and Narcissus is the place to get them, along with all the other sparkly bits that make your outfit complete. HONORABLE MENTION » Cole Couture
WOMEN'S CLOTHING (TIE)
Cole Couture
Who says a Southern woman can't be au courant? Cole Couture embraces the saying "simple, but cute." The boutique offers a variety of fun, alluring looks for the confident Tallahassee woman.
Narcissus
A 5th Avenue New York boutique in Midtown and Northeast Tallahassee, Narcissus offers sexy designer clothing for the sophisticated woman on-the-go, whether it's out on the town or in the office.
Entertainment
ART GALLERY/MUSEUM – The Mary Brogan Museum of Art and Science
The Brogan successfully blends math, science and art together in unforgettable educational experiences for young and old alike. The museum sports two floors of hands-on activities and an art gallery that features works designed to make visitors engage their brain and challenge perceptions. HONORABLE MENTION » LeMoyne Center for the Visual Arts
COMMUNITY EVENT – Springtime Tallahassee
Every spring, Tallahassee residents come out of the woodwork to prove this town is home to more than just college students and politicians. Thousands flock to the downtown area to enjoy the Grand Parade and Downtown Jubilee, and to eat all the corndogs and funnel cakes their bodies can handle. HONORABLE MENTION » Downtown Getdowns
GOLF COURSE (TIE)
Golden Eagle Golf and Country Club
Perched on Lake Diane, Golden Eagle's 32,000-square-foot clubhouse is only rivaled by the beautiful expanse of land encompassing an 18-hole golf course guaranteed to challenge everyone from duffers to scratch golfers.
SouthWood Golf Club
SouthWood Golf Club is an upscale public facility nestled among rolling hills, pastureland and ancient oak trees draped in Spanish moss. It was designed to provide an enjoyable and challenging golf experience for players of all levels.
LIVE MUSIC/ENTERTAINMENT VENUE – 5th Avenue Tap Room
With live music and more than 30 kinds of beer on tap, the 5th Avenue Tap Room adds life to the Midtown area. Although the venue is only about a year old, they've turned having fun into a serious business, and the crowds are lovin' it. HONORABLE MENTION » Trainwreck
PLACE TO BE SEEN – Level 8
Party people are sure to be found at this chic, shiny bar atop Hotel Duval. Be sure to make a red-carpet entrance during Fashionably L8, the lounge's ladies night on Wednesdays. HONORABLE MENTION » Hotel Duval
PLACE TO TAKE THE KIDS – Tallahassee Museum
It's not just a "museum." It's a place where history and nature combine to tell the story of Florida. Tour an 1880s homestead and then walk on the wild side with Florida's only zoological collection devoted to native wildlife. It's all very educational and interactive, and parents get a kick out of it, too. HONORABLE MENTION » Fun Station
WEEKEND GETAWAY – St. George Island
Enjoy the feel of the pure white sand sifting through your toes while you take a whiff of the salt on the air — and relax! Just a two-hour drive from Tallahassee, St. George Island offers a perfect escape where you can luxuriate in a Gulf or bayfront rental home or kick back and enjoy a beach campout at the state park. Swimming, fishing and kayaking have never been better. HONORABLE MENTION » St. Teresa Beach
Local
BEST NEW BUSINESS – Pink Narcissus
The latest in the local Narcissus fashion franchise, Pink Narcissus — a Lilly Pulitzer Signature Store — is a Lilly Girl's dream. There's no way to be glum when you're surrounded by clothes and accessories in sunny saturated sherbet shades that are the designer's hallmark. HONORABLE MENTION » Rinse and Repeat
LOCAL CHARITY/NOT-FOR-PROFIT – Children's Home Society
The Children's Home Society of Florida is one of the oldest private, not-for-profit organizations in the state. Its mission is to protect children and stabilize families, as well as protect kids from abuse, and serves 100,000 kids and families every year. HONORABLE MENTION » Big Bend Hospice