2010 Best of Tallahassee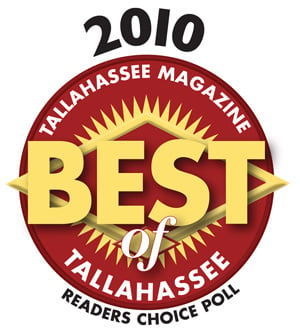 The readers have spoken. The votes have been tallied. It's official.
Best of Tallahassee 2010
In the rollicking Cole Porter musical "Anything Goes," lovesick stowaway Billy Crocker and evangelist-turned-chanteuse Reno Sweeney sing a duet listing things they consider "the top" — hot tamales, Mickey Mouse, Ritz hot toddies, the smile on the Mona Lisa and dozens more.
Well, they've got nothin' on us.
Tallahassee Magazine is singing the praises of no fewer than 112 businesses, service providers, shops, events and venues, chosen by our readers as the Best of Tallahassee. Keep on reading to see if your favorites made it to the top this year.
Compiled by Kendra Anderson, Jason Dehart, Chay Dixon, Rosanne Dunkelberger, Alexandra Mizels, Laura Moore and Lilly RockwellFood & Beverage
Appetizer — Bonefish Grill
Everyone has their favorite irreplaceable starter, no matter how savory or interesting the others may look on the appetizer menu. For many of us, Bonefish Grill's addictive, spicy-sauce-and-crispy-coated Bang Bang Shrimp falls into that category, unless we've been bowled over by their sesame-seared, sliced Ahi Tuna Sashimi. Honorable Mention: Tapas
Asian Restaurant — Masa
Elegance and style with a modern Asian vibe is the centerpiece at Masa. The menu offers a creative, modern fusion of Eastern and Western cuisines, such as Filet Mignon with Roasted Garlic Pepper Sauce or Grilled Miso Chilean Sea Bass with Mango Salsa. Honorable Mention: Osaka Japanese Hibachi Steakhouse & Sushi Bar
Bakery — The Cake Shop
Glory, glory, hallelujah! The Cake Shop has moved from its original off-the-beaten-path location to a bright new facility on Capital Circle Northeast near Centerville Road. You can still order a special-occasion cake, but it also has an array of irresistible gourmet cupcakes for drop-in customers who want to indulge. You can't go wrong with chocolate and vanilla, but other possibilities include mint chocolate, red velvet and Italian cream. Honorable Mention: Tasty Pastry
Bar — Finnegan's Wake Irish Pub
A centerpiece of Midtown nightlife, Finnegan's does a fine job of transporting Tallahasseeans across the pond and into an Irish pub experience. The staff is friendly, the Guinness is on tap and the conversation is lively, both indoors and out. Honorable Mention: Level 8
Barbecue — Sonny's Bar-B-Q
When the family has a powerful hankering for barbecue, Sonny's is the place to go. What'll it be? The menu includes sliced beef and pork, pulled pork and brisket, chicken and tasty ribs with all the fixin's. And wash it all down with some of the best sweet tea in town. Honorable Mention : Famous Dave's
Breakfast — Another Broken Egg Café
Craving an egg-straordinary omelette? Another Broken Egg has every filling you can imagine, from bacon and cheese to bell peppers, avocado slices, shrimp and Cajun seasonings. If healthier fare is your thing, try the yogurt, fruit and granola or the seasonal fruit plate. Honorable Mention: Village Inn
Brunch — Another Broken Egg Café
You don't have to wait until Sunday to enjoy brunch at Another Broken Egg. The brunch (and breakfast and lunch) menu is available every day (except for Monday, when the café is closed). Here's a tempting sample: The Southern Crab Stack is a grit cake topped with a jumbo lump crab cake and smothered in a shrimp and andoullie sausage sauté. Honorable Mention: Food Glorious Food
Cajun Restaurant — Po' Boys
Treat your taste buds to the flavors of the Big Easy. Po' Boys serves up something for everyone, from Creole-style Southern cooking to every kind of po' boy known to man. With great deals and a full selection of beers on tap, every night is Mardi Gras. Honorable Mention: Coosh's Bayou Rouge
Carryout/Gourmet to Go — Your Secret Pantry
This innovative shop promises a delicious family meal without the shoppin', choppin' or moppin'. Mom can stop in and whip up a month's worth of dinners in about an hour, or just grab and go with a selection from Secret Pantry's always-stocked freezer. And here's another secret: It's a great place to buy delicious sides when it's your turn to bring a dish to the holiday potluck. Honorable Mention: Outback
Casual Dining — The Red Elephant Pizza and Grill
Once again, Red Elephant takes the top spot for casual dining. Both Tallahassee locations offer a widespread menu of reasonably priced meals, a laid-back atmosphere (with a soundtrack that's a blast from the past for the 40-plus crowd), and a friendly staff with smiling faces. Honorable Mention: Applebee's
Catering — Klassic Katering
Give your event a "signature" style with creative cuisine from Klassic Katering. Owners Karen and Don Chapman vow to create a stress-free experience — whether it's a dinner party for a few, an office party for dozens or a wedding for 1,000. Honorable Mention: Premier Catering
Celebration/Special Occasion — The Melting Pot
If you've just received a promotion at work or are celebrating a big anniversary with your sweetheart, it's extra-special to celebrate the occasion over a pot of fondue. Leisurely make your way through a cheese fondue, then wrap up the meal by dipping into a delicious chocolate dessert. Honorable Mention: Shula's 347
Cocktail/Martini — Level 8
Happy hour has been taken up a notch by Tallahassee's new chic, upscale lounge and balcony at Hotel Duval overlooking the downtown area. Exotic cocktails and signature martinis, such as the Chock Pop Rock and Key Limetini, will put you in the relaxed mood you've been anticipating the whole day at work. Honorable Mention: Bonefish Grill
Coffee Shop — Starbucks
Brewed, blended, mixed and stirred with a touch of whipped cream on top sounds good, doesn't it? From white chocolate mocha to vanilla latte, Starbucks offers an exceptional coffee experience. It's the perfect way to boost your morning or perk up your evening. Honorable Mention: Red Eye coffee
Deli — Publix
If you're on the go, the delicatessens located inside Publix grocery stores are the place to pass through when hunger strikes. Customers can get anything from a sandwich to a party platter and be assured that they'll receive friendly service and high-quality, delicious food at reasonable prices. Honorable Mention: Hopkins Eatery
Dessert — Food Glorious Food
Have your cake and eat it, too. It's always wise to save room after dining at FGF, because the restaurant is renowned for its generously sized, mouth-watering desserts, including pie, cake and cookie confections. The Betton Place eatery takes the cake for best dessert two years in a row. Honorable Mention: The Cake Shop
Family-Friendly Restaurant — The Red Elephant Pizza and Grill
The folks at Red Elephant have reintroduced the art of dinner conversation in a friendly, laid-back eatery that accommodates your tastes without emptying your wallet. In addition to the funky critter portraits, easygoing atmosphere and kid-friendly game room, the menu offers an extensive array of reasonably priced items such as boiled peanuts, pizza and salads. Honorable Mention: Barnaby's
Fast Food — Chick-fil-A
Great food served fast is what makes Chick-fil-A stand out from the rest of the fast food pack. Treat the family to some tender chicken sandwiches or nuggets with waffle fries. And don't be alarmed when a friendly employee asks, "Do you want a refill?" It's part of the service that makes "the Chick" a great place to eat — every day but Sunday. Honorable Mention: What-a-Burger
Fine Dining Restaurant — Cypress
If you're feeling the need to dine out and kick up the experience a notch, Cypress brings gourmet offerings such as Braised Grouper-Cheek Ratatouille from the market to your palate. Sip wine and feast on an ever-changing menu that features continental treats with a twist, such as foie gras or Duck Sausage and Oyster Mushroom Piadini, then finish the meal with flaming Crepes Suzette. Honorable Mention: Georgio's
Hamburger — Five Guys Burgers and Fries
When you think of the Fourth of July or Labor Day, memories of a smoking grill with seasoned, oversized burgers cooking immediately comes to mind. Relive memories of those holiday cookouts every day when you eat at Five Guys. In its first year in town, the restaurant has taken top honors with big burgers made to order featuring fresh toppings and homemade fries. Honorable Mention: What-a-Burger
Happy Hour — (TIE) Chez Pierre/2 Chez and Paradise Grill & Bar
This year's winners are within spitting distance of each other in the heart of Midtown. Chez Pierre has an inviting climate-controlled deck where people can sip, mix and mingle after work — and listen to music and nibble a bit, too. Paradise has drink specials every night and offers a rollicking good time on the deck as well. Honorable Mention: Chili's
Italian Restaurant — Carrabba's
Dim lights set the ambiance as soon as you walk in this relaxed, homey space with an open kitchen that engages all of the senses. Italian dishes such as Seafood Cannelloni — a mouthful of stuffed pasta packed with lobster, shrimp and scallops — and Pasta Carraba — alfredo with grilled chicken and mushrooms — are a definite must-try. Honorable Mention: Bella Bella
Locally Owned Restaurant — Kool Beanz
The motto at Kool Beanz is "Eat, Drink, and Talk Loud — You're Among Friends." And it couldn't be more true. The fun and funky restaurant's constantly evolving menu keeps diners curious and always satisfied. But if you're looking for a menu staple that's always sure to please, try the Black Bean Cakes. Honorable Mention: Cypress
Lunch — Hopkins Eatery
Break away from the ordinary sandwich and sink your teeth into a Grecian Ham and Cheese Bake or Vegetarian Primp. Hopkins serves a large variety of delicious hot and cold sandwiches, soups, salads and sweets that will promote "lunchtime" to your favorite part of the day. Honorable Mention: Roly Poly
Mexican/Latin American Restaurant — El Jalisco
Hungry? Looking for traditional south-of-the-border spice? El Jalisco is the place for you. With authentic Mexican cuisine and an all-day, every-day happy hour, you're sure to have a good time. Stop by on Thursdays for live music and Saturdays for a mariachi band. Honorable Mention: La Hacienda
Outdoor Dining — Chez Pierre/2 Chez
Located in beautiful Midtown, Chez P is an award-winning tradition noted for its elegant atmosphere, fine dining and climate-controlled porch. And beneath a massive live oak tree festooned with colorful Chinese lanterns, patrons can kick back and enjoy the sounds of jazz, R&B, '80s rock and '70s funk. To Chez! Honorable Mention: Food Glorious Food
Pizza — Momo's
This is the pizza place to order from when you have a big crowd over for the game. You definitely get your money's worth with these larger-than-life pizzas. All it takes is one "bigger than your head" slice, featuring your choice of more than 30 toppings, to make a meal. Honorable Mention: Red Elephant
Romantic Restaurant — The Melting Pot
With a relaxed atmosphere and low-light ambience, The Melting Pot earns the most votes for a romantic rendezvous for the second year in a row. Come with your significant other to celebrate your love for each other with many tasty delights, chocolate fondues and wines. Honorable Mention: Cypress
Salad Bar/Salad — Ruby Tuesday
It's a good thing this salad bar is endless: With its variety of lettuce, toppings, croutons and savory dressings, you're sure to want more. Known for the largest and freshest salad bar selections and an updated, modern look, Ruby Tuesday is just the right fit for a healthful night out. Honorable Mention: Sonny's
Seafood Market — Southern Seafood
Some are content to order a prepared seafood platter off a restaurant menu. More discriminating palates like to select and prepare the ingredients for themselves. That's where Southern Seafood steps in. The market offers everything from plump jumbo shrimp to mahi-mahi, tuna, salmon and other fresh selections. Ask about the sushi-grade options of the day. Honorable Mention: Mike's Seafood and Oriental Market
Seafood Restaurant — Bonefish Grill
An inviting environment, savory nightly specials and high-quality seafood make Bonefish one of Tallahassee's favorite dining spots and a perennial "Best Of" winner. While fish made your way is the star of the show, all of the elements from the start to the finish of your meal will leave you satisfied and ready for a return visit. Honorable Mention: Crystal River
Sports Bar — AJ Sports Bar and Grill
If you're looking for a spot to watch a big game or gather with friends, AJ's has everything. The sports bar offers an open-air dance floor, pool tables, dartboards, a live stage and nearly 50 TVs and projectors, so you're sure not to miss a minute of the big game. If you want to celebrate your favorite sports team's victory or take your mind off a tough loss, head upstairs and dance to some of today's top hit songs. Honorable Mention: Beef 'O' Brady's
Steakhouse — Marie Livingston's
The meals are tasty. The atmosphere is great. The wine list is long. With homemade desserts, delicious grilled steaks, great value and a friendly staff, Tallahasseeans are flocking to Marie Livingston's new location on Apalachee Parkway. Honorable Mention: Outback
Sushi — Masa
For sushi selections that electrify the taste buds, Masa's full selection of sushi takes the plate. From traditional favorites to never-before-seen blends, there's something for every palate. Try the Summer of Love: The savory cucumber, avocado, and eel combo will make your tummy happy. Honorable Mention: Kitcho Japanese Restaurant
Wine List — The Wine Loft
Its remarkable list of Merlots, Chardonnays and many more fruits of the vine made the Wine Loft the top choice of Tallahassee's oenophiles. This newcomer to the local nightlife scene is the perfect place to wine and dine on an extensive menu of small plates. Perch on the second-story balcony some evening to sip and nibble as you watch the world go by. Honorable Mention: The Winery at Red Bar
Wings — Wing Stop
For a finger-licking good time, indulge in wings sauced and tossed in a variety of nine flavors, from hickory-smoked Barbecue to Garlic Parmesan. With more than 2 billion wings sold, Wing Stop definitely has you covered. Honorable Mention: Beef 'O' Brady's
Service Providers
Accounting Firm — Thomas Howell Ferguson P.A.
In 17 years, the firm has grown to 70 employees, a testament to the trust of its local clientele. Thomas Howell Ferguson specializes in offering advice and accounting services to a wide range of commercial businesses, as well as not-for-profits and government agencies. The firm also emphasizes its environmentally friendly, "paperless" work environment, in which important documents are kept in searchable digital libraries. Honorable Mention: James Moore & Company
Air Conditioning/Heating — Benson's Heating & Air Conditioning
If you read the fan mail on its website, you'll see why Benson's won "Best Of" once again. The employees are friendly and knowledgeable, and you're guaranteed top-notch products backed up by 24/7 service and maintenance plans that ensure you'll be keeping cool in the summer and warm in the winter. Honorable Mention: Barineau Heating & Air
Alterations — Helga's Tailoring and Alterations
After serving Tallahassee for more than 25 years, Helga's has mastered the art of keeping customers looking sharp. With affordable prices, respectful service and same-day alterations, it's the perfect shop for busy people who appreciate quality work. Honorable Mention: Alterations Etc.
Apartment Complex — Victoria Grand
What if you could receive the perks of luxury hotels, such as free continental breakfast … at your apartment? Its name is not an exaggeration — Victoria Grand offers residents beautiful landscaping, numerous amenities and spacious floor plans, topped off with a full calendar of socials and events. Honorable Mention: Eagles Landing
Assisted Living Facility — Westminster Oaks
Freedom and wellness. That's what life is all about at Westminster Oaks, an active-lifestyle community with a beautiful campus and lots of amenities. Every day at Westminster Oaks is a delightful experience aimed at making residents feel right at home. Honorable Mention: Heritage Oaks
Auto Repair — (TIE) McGee Tire and Perdue
This year, it's a tie for best auto repair. With more than 20 locations in Florida, McGee offers good service and high-quality tires at competitive prices. The tire shop emphasizes customer service above all else. If you're looking for an all-around good auto shop, Perdue can't be beat. The exterior is well worn, but inside you'll find great, reliable service and loyal customers who swear by the shop's mechanics. Honorable Mention: Auto Super Service center
Automobile Dealer — Proctor Group/Proctor Honda
Proctor is a dealership that matches the quality of the vehicles it sells. Buying is a no-pressure pleasure. But the rubber really meets the road afterward, when you can count on Proctor to keep your Honda in tip-top shape with service that's second to none. Honorable Mention: Legacy Toyota
Barber Shop — Renegade Barber Shop
Nothing is quite as timeless as walking into a barbershop, being greeted by friendly staff and sitting down for a quick, affordable haircut. Renegade has nine locations around Tallahassee, so there's really no excuse for a guy to be looking shaggy. Honorable Mention: Tony's Hairstyles
Bartender — On the Rocks
For more than 10 years, On the Rocks has been pouring the drinks at Tallahassee special events and parties. The goal is to exceed expectations and make each event a memorable one. Honorable Mention: Level 8
Builder/Contractor — Mad Dog Design & Construction
With more than 30 years of experience, this homegrown contractor was building "green" before sustainable building was cool. Mad Dog is respected throughout the Southeast for its well-constructed homes and commercial spaces. The company and its principals have also garnered many honors for their business practices and generosity to the community. Honorable Mention: Affordable Spaces
Carpet Cleaner — Miller's Carpet and Upholstery Cleaning
Millers Carpet is locally owned and operated since 1998. They specialize in carpet, upholstery and tile/grout cleaning. They are even available 24/hrs for Emergency Water Extractions.
Cell Phone Service — Verizon
With one of the clearest signals available, Verizon Wireless provides one of the largest coverage areas in the nation and offers a "worry-free guarantee." Voted best cell phone service in Tallahassee two years in a row makes us wonder, "Can you hear me now?" Honorable Mention: AT&T
Child Care — Annsworth Academy
The teachers at Annsworth Academy provide a nurturing environment where children thrive, spending happy days in work and play, growing socially, emotionally, and academically through a solid educational program. The teachers' skill and loving care is reflected in the children's enthusiasm for the Annsworth program. Honorable Mention: Growing Room
Chiropractor — Dr. Michael Miller
It can be agonizing to struggle with chronic back or neck pain. Miller is a chiropractor who can help get your body back into proper alignment. His office features large private rooms, a courteous staff and a "no wait" policy. Honorable Mention: DR. Joseph Miller
Computer Repair — On Call Solutions
Oh, no! The office computer crashed again. Time to call in the IT guys at On Call Computer Solutions. They not only repair your computer when it breaks down, but also provide your small business with proactive IT management solutions based on the specific needs of your company. Honorable Mention: Geek Squad
Dance Studio — Sharon Davis School of Dance
Every little girl dreams of becoming a princess, going to balls and dancing with Prince Charming. Sharon Davis wants to make sure your little princess doesn't step on Prince Charming's feet. With classes ranging from preschool "ballerina princesses" to high school-age apprentice dancers, it's the perfect environment for aspiring dancers to embrace their creativity. Honorable Mention: Tallahassee Dance Academy
Day Spa — Millennium Hair and Day Spa
Here's a sweet escape for those times when you need a break (but that weeklong vacation isn't happening any time soon): Schedule a one-day spa experience at Millennium and you'll feel reenergized. Even a quick, 30-minute Swedish massage is a great pick-me-up. Pampering services include manicures, pedicures and massages. Honorable Mention: Chelsea Salon & Spa
Dentist Office — Russell B. Rainey DMD
So you're not happy with your smile, and you think your quality of life is suffering. Don't fret. Dr. Rainey is there to help. His smile-crafting techniques have helped shine and shape the teeth of many Tallahassee patients. Trust him with your dental makeover, and feel confident again. Honorable Mention: Smiles By Beck
Disc Jockey — Greg Tish/GT Entertainment
Tish and his crew of deejays make it their business to get your party started. They're fun but professional, and they promise sound and light shows that are sure to entertain while offering a "no cheesy music" guarantee. Honorable Mention: Steve Christian
Dry Cleaner — Blue Ribbon Dry Cleaning
Your special clothing deserves special attention, and that's what it gets at Blue Ribbon. Its three locations are family-owned and operated and staffed by friendly, helpful people. And there's a can't-miss guarantee: If you're not satisfied, Blue Ribbon will clean your item again for free. Honorable Mention: o'brien's Shamrock Cleaners
Electrician — Lawson & Lawson Electrical Services
A local, family-owned business, Lawson & Lawson has years of experience, from routine residential and commercial service calls to complex installations on nuclear power plants. Owner O.Z. Lawson has been in the business for 44 years. Commercial clients include retail stores such as Kohl's and Lowe's. Honorable Mention: Seminole Electric
Event Planner — John Gandy Events
Specializing in weddings, John Gandy Events helps brides and grooms create a lasting memory. With three levels of service, it offers everything from just a wedding-day coordinator to planning every aspect of a multi-day event down to the smallest details. Honorable Mention: Wanda Barkley
Family Physician — Tallahassee Primary Care Associates
You get the best of both worlds at TPCA — the individualized attention found at a small practice and the convenience of services such as diagnostic testing, imaging and lab services offered by a large physician network. TPCA pledges to treat you like family — and with 39 doctors, 224 staff members and 80,000 patients, it's an awfully big one. Honorable Mention: Patients First
Financial Institution — Capital City Bank
Everyone has a bank. What they really need is a banker. That's what Capital City Bank provides. That personal service. Commitment to the individual. Valued relationships. During its 113-year history, banking has changed, but providing a friendly, personal touch remains the core mission of this neighborhood bank. Honorable Mention: Premier Bank
Flooring — Brian Barnard's Flooring America
Whether it's hardwood or carpet, laminate or tile, this family-owned business has what you need. Flooring America has three retail showrooms and a huge selection of materials. The attentive staff helps you choose a look that matches your style and your budget. Honorable Mention: Southern Flooring
Florist — Blossoms Flowers on Monroe
Once again, readers make Blossoms their top choice when it's time to say it with flowers. Blossoms' custom arrangements and gift baskets are sure to send the right message no matter the holiday, occasion or mood. Honorable Mention: England's Florist & Gifts
Gym/Health Club — Premier Health and Fitness Center
Premier's endless square footage and wide range of amenities make the gym an easy first choice for fitness buffs. Premier offers much more than the traditional weights and treadmills. Members have their pick of more than 90 group classes weekly, including Pilates, yoga, spinning and aqua aerobics. There's an indoor track, a heated lap and aerobics pool. And if team sports are your thing, Premier offers three racquetball courts and an NBA-size basketball court. Honorable Mention: Gold's Gym
Hair Salon — Envy Salon and Spa
Visit this unique establishment and "You too can be the Envy of all your friends." Midtown's Envy Salon & Spa blends the enthusiastic atmosphere of a hair salon and the relaxing ambience of a spa. Specializing in customized clip-in extensions and several smoothing systems, such as The Brazilian Blowout, Envy has an extensive variety of services. Envy consists of an eclectic group of experienced professionals, featuring Redken Master Specialists. Additionally, Envy offers rejuvenating, therapeutic spa treatments including microdermabrasion, Swedish and deep-tissue massages, and Xtreme lash extensions. Visit this unique establishment and "You too can be the Envy of all your friends." Honorable Mention: Haute Headz
Hotel — Hotel Duval
Local developers took an aging landmark hotel, did a $15 million, down-to-the-studs renovation … and the result? Hotel Duval, a stylish boutique accommodation that has jazzed up the local lodging market — and the downtown nightlife — in only its first year of operation. Honorable Mention: Doubletree
Insurance Agency — Demont Insurance Agency
When the chips — and the trees — are down and you're scrambling to rebuild, it's good to know that you're covered by a team that has your back. Demont Insurance Agency is an award-winning company offering friendly brokers and a wide range of policies covering your boat, home or car. Honorable Mention: Earl Bacon Agency
Interior Design Firm — Julian Mathis Interior Design Inc.
Homeowners love Mathis' eye for color, creativity and ability to transform a room. But he also offers plenty of practical, budget-minded advice. He can rattle off the recipe for restoring finishes to old furniture off the top of his head and always thinks outside the box. Mathis can also give tips on lighting, window treatments furniture or just ways to rearrange a room so that it breathes new life into your home. Honorable Mention: Clay Secrest
Landscaping/Lawn Services — Esposito Garden Center
Esposito's has served the lawn and garden interests of Tallahassee for 40 years and knows how to make a yard be the best it can be. More than just a garden center, Esposito's features a large floral department, a Christmas shop, a small-engine repair shop and equipment rental. It's truly a one-stop place for lawn care. Honorable Mention (TIE): All Pro and Superior
Limo Service — Mike's Limousine
This limousine service stands head and shoulders above the rest because of the sheer size and variety of its fleet. Mike's has everything from a 66-passenger party bus to a 40-foot, luxurious "land yacht" bus, traditional stretch limos and even a Rolls Royce. Mike's rents vehicles and drivers for weddings, proms and other special occasions. Honorable Mention: Classic Limo
Moving Company — Mike's Moving
You've seen the trucks with the crazy artwork around town: For 17 years, Mike and his men have been committed to helping people from North Florida and South Georgia have a safe and pleasant moving experience. Honorable Mention: AMWAT
Nail Salon — Royal Nails
It's all about you at Royal Nails. The friendly staff caters to customers with a beverage (wine, anyone?) and personal flat-screen televisions at each station set to your liking. A quality experience is the best way to describe it, from the setting to the complex nail designs. Honorable Mention: The Nail Bar
Obstetric/Gynecological Practice — North Florida Women's Care
This practice has a dozen doctors on staff, all dedicated to providing the best care for a woman's gynecological and obstetric needs. Services for normal and high-risk pregnancies are offered, as well as consultation on infertility and assisted reproduction. Honorable Mention: Drs. Hall and Morales
Ophthalmology Practice — Eye Associates of Tallahassee
At Eye Associates of Tallahassee, the goal has been to ensure the ocular health of patients and instill trust and understanding between doctors and patients since 1960. The practice employs six ophthalmologists, making it possible for large numbers of clients to be seen and cared for in a timely and convenient manner. Honorable Mention: The Hour Glass
Painter — Superior Painting
For the third year in a row, Superior Painting has won "Best of Tallahassee." Superior does it all, whether it's painting your home's exterior, interior or doing wallpaper removal, pressure washing and drywall repairs. Homeowners rave about Superior's competitive pricing, professional approach and quality work. Honorable Mention: Kennette Buzbee
Pediatric Physician — Tallahassee Pediatrics, TPCA
When your child's fever spikes, that runny nose won't go away or the dreaded chicken pox pays a visit, parents find comfort at Tallahassee Pediatrics. The pediatric-only doctor's office has knowledgeable and experienced physicians who treat your child as more than just another patient. Honorable Mention: Professional Park Pediatrics
Pest Control — Service Paul's Termite & Pest Control
Living in Tallahassee means putting up with more bugs and destructive critters than you can count, or even see. Termites especially will eat you out of your home, and when they wear out their welcome, it's time to call Paul's. The company has been around for nearly 30 years, and its ProShield Pest Control Service protects thousands of Tallahassee homes. Honorable Mention: Capelouto
Pet Services — Pet Paradise
At Pet Paradise, the goal is to spoil your pet. It's the place to call when you need to board your pet or arrange for doggie day care. You can count on first-class care by trained staff — and professional grooming is available too. Honorable Mention: North Florida Animal Hospital
Photographer — (TIE) Dina Ivory Photography and Shana Beiro
Dina Ivory has been capturing the images of children, teens and families since 1987. She is regarded as an expert infant and children's photographer and travels both locally and internationally for photography sessions and lecturing. Shana Beiro catches the essence of sweet children, beautiful brides and happy families in her portraits that feature natural settings. Honorable Mention: Terri Smith
Plumbing Service — McNeill Plumbing
Sometimes the plunger isn't good enough. And there are times when the old septic tank needs to be replaced with a sewer hook-up. In either case (and many others), the courteous and efficient plumbing specialists from McNeill will make sure you are returned to civilization as quickly as possible. Honorable Mention: White's Plumbing
Real Estate Agency — Shoaf Real Estate Group
This locally owned group has a dozen trained real estate agents to meet your needs. In a challenging real estate market, homeowners say they trust Shoaf Real Estate's extensive knowledge of the local market. Shoaf Realtors are familiar with sought-after neighborhoods such as Killearn Estates, SouthWood and Golden Eagle and can help buyers and sellers alike find or sell the right property at the right price. Honorable Mention: Summers Realty
Real Estate Agent — Jason Shoaf
Home sellers and buyers working with Shoaf appreciate his dedication to his clients and passion for the business. Home sellers like that he's an accredited staging professional, which means he knows how to make your house look its best to entice buyers. He also is an expert negotiator with a keen sense of the Tallahassee housing market. Honorable Mention: Mike Ferrie
Security System — Safe Touch
"I hate Safe Touch!" screams the comedic thief in the Safe Touch commercials. With good reason: Safe Touch features a 45-second guaranteed response time and two-way voice communication activated when the alarm is triggered. Your home and office are in safe hands with Safe Touch. Rates are good, too. Honorable Mention: Sonitrol
Storage Facility — Fort Knox Self Storage
When you're in between jobs or cities, an avid collector, or just have more stuff than your home can handle, visit Fort Knox. The storage facility offers several convenient locations throughout town. As the name suggests, Fort Knox keeps your treasured items safe until you've found room for them again. Honorable Mention: Budget
Surgical Physician — Dr. William T. Baldock
There's nothing more unnerving than surgery, with the health risks, groggy anesthesia hangover and subsequent recovery. But patients say surgery with Baldock is a breeze. The periodontist specializes in gum disease and dental implants. He also has training in conscious sedation, which means you're never out cold. Honorable Mention: Dr. Ben Kirbo
Tanning Salon — Wolff Tan
With the freshest lamps, the best product lines made for indoor tanning and a knowledgeable staff, readers say Wolff Tan is the best tanning salon in town. Wolff has great deals each month, so you can get your tan on, rain or shine. And the three Tallahassee locations offer Mystic/Airbrush tanning for an instant golden glow. Honorable Mention: Golden Image
Travel Agency — AAA
AAA doesn't just provide roadside service to unlucky drivers. In fact, it's a comprehensive travel agency that offers cruise deals, travel ratings, hotel rewards program, member travel benefits, destination guides, cruise port information, international driving permits, travel documents, passport information, travel insurance, value-packed vacations, exclusive member pricing and exclusive onboard events. Honorable Mention: Adventures in Travel
Tree Service — Gibbs & Culpepper Tree Service
A tree city like Tallahassee needs a special tree service, and Gibbs & Culpepper takes care to save our valuable urban canopy whenever possible. The company has certified arborists that help homeowners properly care for the tall, leafy friends on their property, and safely remove them when they fall. Honorable Mention: Miller's tree service
Veterinary Clinic — North Florida Animal Hospital
With wellness care, dental care, surgery suites and sophisticated diagnostic and therapeutic equipment, this clinic has the amenities and services to take care of your pet's needs — even exotic animals. It also offers pet boarding for your weekend getaway. Honorable Mention: Novey Animal Hospital
Weight Loss/Control Program — Weight Watchers
Finding the time or motivation to lose weight can be a struggle. Visiting a Weight Watchers location is the perfect solution, because dieters are surrounded by a group of people who are happy for their success and are there for encouragement. Best of all, the program allows people to lose weight while still enjoying normal meals. Honorable Mention: FIT
Shopping
Antique Shop — Sally Rude Antiques and Fine Art Gallery
Looking for an exquisite American, English or European antique, great paintings and wonderful accessories? This vibrant shop is filled with an eclectic mixture of 18th-, 19th- and 20th-century furnishings, art, hard-to-find accessories and fabulous jewelry. Owners Sally and Randi pride themselves on being loyal and reliable to their customers. They even call when they find what you're looking for. Honorable Mention: Killearn Antiques
Furniture Store — Haverty's Furniture
Sometimes, the difference between a house and a home is a trip to Haverty's. The store has a showroom featuring dozens of room possibilities — or visit Haverty's online room planner, plug in the dimensions and start creating a space that's uniquely you. Honorable Mention: Ashley furniture homestore
Gift Store — My Favorite Things
This is a bride's ideal registry and a guest's go-to place for wedding gifts. From Villa Vietri dinnerware and table accessories to Waterford crystals collectibles and china, My Favorite Things' distinctive pieces will add the perfect touch to any newlywed home. With such a broad selection of elegant items, you might walk out with something for yourself too. Honorable Mention: Blue Abaco
Home Decorating — Kirkland's
You've painted and gotten the drapes and furniture arranged just so. Now it's time for a visit to Kirkland's, where you're sure to find home décor items that will add the finishing touch to any room in the house. Honorable Mention: Bed, Bath & Beyond
Jewelry Store — The Gem Collection
Whether you're on the hunt for a knock-her-socks-off engagement ring, a bead to add to her Pandora bracelet or something in between, you're sure to find the perfect gift from the dazzling array of jewelry at Gem Collection. Honorable Mention: Robert's Jewelry & Design
Kids Clothing — My Kids A La Mode
Hey, kids want to be au courant with fashion, too. This kids' boutique on Market Street offers more than two dozen trendy lines, including all-organic clothing, as well as toys and gift items. And if you can't make it to the storefront, My Kids' website offers free shipping. Honorable Mention: Old Navy
Locally Owned Shop — Cole Couture
This Midtown boutique blossomed from the dream of owner Carrie McNeill, who envisioned a haven for the women of Tallahassee. The shopping emporium not only caters to the needs of the Tallahassee women but also caters to the needs of the community at large by sponsoring fundraisers such as the Avante Garde party benefiting the LeMoyne Foundation. Honorable Mention: Blossom's On Monroe
Men's Clothing — Nic's Toggery
Nic's has been the place for men's clothes for 60 years. Then, as now, a tailored suit was the hallmark of the distinguished gentleman, and Nic's consultants are eager to help you choose the professional style, shoes and accessories that work for you. Honorable Mention: Men's Wearhouse
Nursery/Garden Center — Tallahassee Nurseries
With its shady arbors, soothing fountains, brick pathways and beautiful gardens, Tallahassee Nurseries ought to be a tourist attraction. As it is, it's one of Tallahassee's oldest garden centers and offers its customers everything they need to make their yards come alive with color and scent-sations. Honorable Mention: Esposito's
Optometry/Eyeglass Store — The Hour Glass
Just because you're nearsighted doesn't mean you can't be stylish. The Hour Glass understands this and has a huge, up-to-date selection of eyewear that keeps clients "looking" fabulous. Honorable Mention: CHP Eye Care
Women's Accessories/Shoes — Cole Couture
A nice outfit is wonderful, but when you add a dynamite pair of shoes and the perfect scarf or piece of jewelry, you'll leave the house feeling like a million bucks. Cole Couture is chock-full of pretty little things to complete your fashionable look. Honorable Mention: Dillard's
Women's Clothing — Cole Couture
With its vintage, chic style and comfortable, high-end atmosphere, Cole Couture offers women a variety of fun, fashionable looks that are sure to turn heads. The boutique caters to women of all ages, offering looks ranging from flirty fashionista to professional glam. Honorable Mention: Narcissus
Entertainment
Art Gallery/Museum — Mary Brogan Museum of Art and Science
The Brogan successfully blends math, science and art in unforgettable educational experiences for young and old alike. The museum sports two floors of hands-on activities and an art gallery that features works designed to make visitors engage their brains and challenge their perceptions. Honorable Mention: LeMoyne
Golf Course — Golden Eagle Golf & Country Club
The renowned golf course was designed by architect Tom Fazio and offers 18 holes that will challenge both the novice and the experienced golfer. And the luxurious clubhouse isn't bad either, evoking the feel of an expansive English manor with 32,000 interior square feet. Perched on Lake Diane, the club offers plenty to tempt golfers after a day on the links, with ballrooms and tennis courts as well as saunas, spas and swimming pools. Honorable Mention: SouthWood golf club
Community Event — Springtime Tallahassee
For more than four decades, locals have ushered in their favorite season during Springtime Tallahassee's parade, downtown jubilee and other festivities. Not just a good time, the festival brought more than $5 million in visitor dollars to the area last year. Make sure to mark your calendars for the 2011 festival next spring, which promises to delight all ages. Honorable Mention: Downtown GetDown
Live Music/Entertainment — Venue Paradise Grill & Bar
Live bands are a given here, so make sure you get seated on the outdoor deck to enjoy the musical entertainment as you dine. While you're jamming, belly up to the beach bar and take advantage of one of the daily drink specials and happy hour. Honorable Mention: Chez Pierre
Place to be Seen — Level 8
Need a reason to dress up? Pull the little black dress out of the closet and elevate to Level 8 on the top of the Hotel Duval. Open less than a year, it has become a Tallahassee hot spot. The ambiance is sophisticated and chic, and the view … well, you'll have to see for yourself. It's the perfect place to bring a date or to meet up with friends for cocktails. Honorable Mention: FSU Football Games
Place to Take the Kids — Zoinks
Under 12 and bored with cartoons? Head over to Zoinks for some genuine family fun. Zoinks has more than 17,000 square feet of slides, mazes, trampolines and climbing areas. There's a dedicated toddler room for little tykes, and Mom and Dad can relax in front of flat-screen televisions in their own area. Birthday party packages are available. Honorable Mention: Tallahassee Museum
Public Park — Tom Brown
We've been making a list, and it's true: You can participate in an activity every day for a month at Tallahassee's biggest park and never do the same thing twice. There's tennis, BMX biking, picnic facilities, a dog park, baseball and soccer fields and more, as well as wide-open spaces to enjoy the outdoors. Honorable Mention: Maclay Gardens
Weekend Getaway — St. George Island
Lucky for us, we can leave behind our workaday world and be on the pristine white, sandy beaches of SGI (as it's called by frequent visitors) with a leisurely car ride. Whether you enjoy a beach campout or a stay in a luxurious beach house, your version of a weekend paradise is a two-hour drive from just about any front door in Tallahassee. Honorable Mention: Destin
Best Corporate Citizen — Blossoms Flowers on Monroe
Recognized for the ninth year in a row as Tallahassee's best florist, Blossoms is also known for its tradition of giving generously to local events and charities. Blossoms was started by two ex-bankers, Jesica Parker and Lisa Metcalf. These women provide beautiful floral arrangements and great customer service at their iconic pink building on North Monroe Street. Honorable Mention: Capital City Bank
Best New Business — Vocelles The Bridal Shop
From the moment you walk through the door, you'll notice that Vocelles is not your average bridal store, blending big-city style with small-town Southern hospitality, creating an abundance of bridal style with a touch of couture. Kristen Vocelle, after leaving Tallahassee to find her own perfect dress, decided Tallahassee brides needed and deserved the wedding experience of a lifetime. Honorable Mention: Hotel Duval
Local Charity/Not for Profit — Big Bend Hospice
Dealing with losing a loved one is never easy, but Big Bend Hospice tries to make the situation as painless as possible by helping both patients who are facing a limited life expectancy and their loved ones. The organization reaches into clients' homes to provide care and offers a comfortable and comforting facility as well. Honorable Mention: Children's Home Society