2009 Best of Tallahassee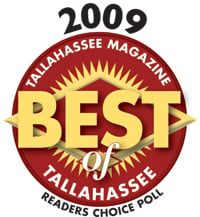 Your votes have been cast and the results are in! Best of Tallahassee 2009 The votes are in and they've been tallied. Our readers have had their say. You chose your favorite places to eat, shop, get your nails done, purchase pet supplies and more. And now we have the opportunity (drum roll, please) to present to you the Best of Tallahassee 2009!
Compiled by: Andrew Butler Jason Dehart, Rosanne Dunkelberger, Jessica Goff, Ivy Jacobson, Daniel Mutter, Linda Kleindienst, Tabitha Yang
This year's winners include some newcomers, like The Winery, and several perennial winners, like Blossom's. You told us Destin was the best place for a weekend getaway and AJ's was the sports bar of choice when you want to watch the game. Read on to discover more of the cream of Tallahassee's crop.
Food & Beverage | Service Providers | Shopping | Entertainment
Food & Beverage
Food & Beverage | Service Providers | Shopping | Entertainment
Best Appetizer | Bonefish
Remember those trigger-happy days of youth when all you wanted to do was shoot the bad guys with your trusty cap gun? Well, Bonefish's Bang Bang Shrimp appetizer has a similar kind of addictively thrilling appeal. Those tender shrimp encased in crispy breading and topped off with creamy, spicy sauce disappear as quickly as you can pop them into your mouth.
• Honorable Mention – Outback Steakhouse: Tapas
Best Asian Restaurant | Masa
Everything from the asymmetrical water glasses to the large feather paintings on the walls proclaims modern elegance at Masa. Try the fresh sushi or one of the diverse Asian offerings on the menu, such as the Creamy Coconut Chicken Curry.
• Honorable Mention – Osaka
Best Bakery | Tasty Pastry Bakery
Stop in early for cheese or apricot Danish or a loaf of Tasty Pastry's freshly made bread. If a wedding or birthday is in the works, there is no shortage of cake varieties, including red velvet, seven-layer, Neapolitan and a decadent triple-chocolate mousse cake.
• Honorable Mention – The Cake Shop
Best Bar | Paradise Grill & Bar
For food, drinks and fun, Paradise is the place to go when you're looking for a good time any night of the week. The live music is always great, and happy hour happens every evening from 4 to 7 p.m. Best of all, Paradise offers better-than-bar-food with some of the most delicious seafood in town.
• Honorable Mention – Corner Pocket, 2 Chez/Chez Pierre
Best Barbecue | Sonny's Real Pit Bar-B-Q
On any given night — and especially on weekends — Sonny's is bustling with customers eager to get their fill of smoky ribs, chicken, pork or beef. A popular choice is the pulled pork sandwich, but if that fails to please, the menu is full of other options, such as Southern catfish fillet or pork three ways. With three Tallahassee locations, you're never too far away when the hankering for some barbecue hits.
• Honorable Mention – Famous Dave's
Best Breakfast | Another Broken Egg Café
Craving an egg-stra special omelette? Another Broken Egg Café has every omelette filling you can imagine, from crab to sausage and mushrooms, diced chicken breast and fresh broccoli. If waffles are more your thing, try them with warm blueberries, strawberries, blackberries or apple cinnamon.
• Honorable Mention – Village Inn
Best Brunch | Another Broken Egg Café
If Bananas Foster French toast or an omelette with the works — sausage, crisp-baked bacon, onions, mushrooms and melted jack and cheddar cheese — sounds good to you, Another Broken Egg Café is the natural choice for your next Sunday brunch.
• Honorable Mention – Chez Pierre
Best Carryout/Gourmet to Go | Mozaik
All of the beautifully crafted tile work wrapping around the bar will make you forget that you even had to wait for your food. Mozaik redefines the term to-go, with a menu that changes daily and offers the best in New American cuisine. Try the Crispy Goat Cheese Salad.
• Honorable Mention – Carrabba's Italian Grill, Fresh Market
Best Cajun Restaurant | Po' Boys Creole Café
You can drive five hours to eat fresh Louisiana Creole food, but why? Po' Boys is right around the corner, and every night is Mardi Gras. The best crawfish and every type of po' boy you can think of (and a few you haven't) only taste better with a full selection of beers on tap.
• Honorable Mention – Coosh's Bayou Rouge, Harry's Seafood
Best Casual Dining | The Red Elephant Pizza and Grill
The folks at Red Elephant go out of their way to accommodate your tastes and make you feel comfortable without emptying your wallet. In addition to the primitive critter artwork and modern atmosphere, Red Elephant's menu offers an extensive array of reasonably priced items such as boiled peanuts, pizza and signature salads.
• Honorable Mention – Kool Beanz, Outback
Best Catering | Klassic Katering
When you want the food to be as memorable as the occasion, call Karen and Don Chapman at Klassic Katering. Whether it's a dinner party, office meeting or a wedding for 400, they vow to relieve your stress and let you be a guest at your own event.
• Honorable Mention – Roly Poly, Premier Catering, Magenta Catering
Best Celebration/Special Occasion Restaurant | The Melting Pot
You just got a promotion at your job and your 10th wedding anniversary is coming up tomorrow. What better way to celebrate than with melted cheese and molten chocolate? We dare you to say no to strawberries dipped in chocolate. But then again, why would you?
• Honorable Mention – Georgio's
Best Dessert | Food Glorious Food
Key lime pound cake, a nuts- and fruit-studded hummingbird cake with cream cheese icing, coconut cream pie, milk-chocolate peanut butter pie. Is your mouth watering yet? Food Glorious Food takes the cake with the most amazing desserts in town.
• Honorable Mention – The Melting Pot
Best Family-Friendly Restaurant | The Red Elephant Pizza and Grill
Kids' menu? Check. Laid-back atmosphere? Check. Affordable prices? Check. Game room? Check. Looks as though Red Elephant has all the elements necessary to qualify as "family-friendly."
• Honorable Mention – Cracker Barrel, Beef 'O' Brady's
Best Fast Food | Chick-fil-A
At a restaurant, it's always a good feeling when employees ask if you'd like a refill and encourage you to enjoy your day. This is fast food? Do I leave a tip? Instead of pondering such predicaments, enjoy a simple but delicious chicken sandwich or salad and the clean, family-friendly environment.
• Honorable Mention – Wendy's, McDonald's
Best Fine Dining Restaurant | Cypress Restaurant
If you're feeling the need to dine out and kick things up a notch, Cypress brings gourmet offerings such as Braised Grouper-Cheek Ratatouille from the market to your palate. Feast on fois gras, Crêpes Suzette, and Duck Sausage and Oyster Mushroom Piadini while sipping a glass of wine.
• Honorable Mention – Georgio's, Chez Pierre
Best Hamburger | Whataburger
What makes a Whataburger so great? For starters, every two-fisted burger is made with 100 percent pure beef, cooked to order and designed to your specifications. No onions? No problem! Extra tomatoes? You got it! And if a hankering for a hamburger hits in the wee hours, Whataburger has you covered: Tallahassee's five locations are open 24 hours a day.
• Honorable Mention – Ted's Montana Grill
Best Italian Restaurant | Carrabba's Italian Grill
Robust Italian flavors shine at Carrabba's, from the wood-fired margherita pizza to pasta dishes such as Rigatoni Martino. Finish your evening with tiramisu: ladyfingers dipped in liqueur-laced espresso, layered with sweetened mascarpone, Myers's Rum and chocolate shavings. Buon appetito!
• Honorable Mention – Olive Garden
Best Live Music/Entertainment | 2 Chez/Chez Pierre
On a cool evening, sit outside on Chez Pierre's porch, beneath colorful Chinese lanterns that hang from a massive live oak tree, and listen to '70s funk, '80s rock, R&B and blues played by Night Breeze. On another night, you might catch Richie Summa on jazz guitar or the Sarah Mac Band playing bluesy, jazzy rock.
• Honorable Mention – Paradise Grill & Bar
Best Locally Owned Restaurant | The Red Elephant Pizza and Grill
Folks are stampeding to John Schrowang's fun and family-friendly eateries like, well, a herd of red elephants to enjoy a casual menu featuring buckets of boiled peanuts, crusty pizza and tasty elephant ears. There are locations now in Tampa, Jacksonville, Panama City and Lakeland, but the phenomenon started right here in Tallahassee.
• Honorable Mention – Kool Beanz
Best Mexican/Latin American Restaurant | El Jalisco
If you're driving down Monroe Street looking for a unique south-of-the-border experience, El Jalisco is the place for you. The restaurant offers a full range of your favorite Mexican dishes, as well as two-for-one margaritas every day. Come by on Saturday for live music featuring an authentic mariachi band. They'll even take requests!
• Honorable Mention – Morelia, La Hacienda
Best Outdoor Dining | 2 Chez/Chez Pierre
On a pleasant autumn day, nothing could be better than to sit on the porch at Chez Pierre and enjoy a plate of quiche au saumon et champigons — quiche with salmon and mushrooms — and a tall glass of iced tea. French food and Southern charm make it irresistible.
• Honorable Mention – Food Glorious Food
Best Pizza | MoMo's Pizza
Momo's boasts fresh, made-to-order pizzas in a laid-back setting. And yes, the slices are as big as your head. And if you don't believe it, try ordering two: We guarantee you'll be leaving with a doggy bag. Eat in or take out, but remember: Be careful how much you order. This ain't your mama's medium pie!
• Honorable Mention – Village Pizza, The Red Elephant Pizza and Grill
Best Romantic Restaurant | The Melting Pot
The low-light ambience and relaxed atmosphere make this Tallahassee landmark on North Monroe Street a must for a non-hurried and romantic evening on the town. The sumptuous menu offers a cornucopia of delights that include delectable cheeses, wines, lobster, steak and — last but never least — a variety of chocolate fondues to cap the night.
• Honorable Mention – Cypress, Georgio's
Best Salad Bar/Salad | Ruby Tuesday
Ruby Tuesday keeps up its reputation with the widest, freshest selection of produce and toppings. Make it a meal or pair it up with an entree. (FYI, the homemade pumpernickel croutons are to die for.) With its new contemporary and comfortable setting, Ruby's salad bar is perfect for lunch with friends or for an evening out.
•Honorable Mention – Fourth Quarter
Best Sandwich | Hopkins Eatery
Between the ultimate turkey, smothered beef, vegetarian primo and myriad other sandwich options, you could eat a different sandwich at Hopkins every day for a month. And they all would be delicious.
Honorable Mention – Jimmy John's, Roly Poly
Best Seafood Market | Southern Seafood
Southern Seafood has everything from plump, jumbo shrimp to mahi mahi, tuna, salmon and other fresh fish selections. If you're into making your own sushi and sashimi, ask about the sushi-grade options of the day.
• Honorable Mention – Mike's Seafood
Best Seafood Restaurant | Bonefish Grill
Fish tastes extra delish when it's crusted with grated parmesan and ground pistachios, then topped with artichoke hearts, fresh basil and lemon butter. Of course, if you prefer it simple and minimally adorned, Bonefish can serve it to you that way too, with just a bit of lemon butter or sweet Asian glaze to finish it off.
• Honorable Mention – Barnacle Bill's, Crystal River
Best Steakhouse | Outback Steakhouse
Looking for a juicy cut of meat cooked just right? You've gotta go Down Under to find it, mate. Outback Steakhouse serves up the traditional ribeye, New York strip and prime rib, as well as its Melbourne and Outback Special cuts. And while you're there, you might as well pick up a Bloomin' Onion to go along with it.
• Honorable Mention – Marie Livingston's Steak House
Best Sushi | Masa
With a full selection of traditional rolls, as well as a few that you've never heard of before, Masa's sushi selections will send your taste buds for a ride. Try the Mango Tango roll; the sweet and spicy flavors are guaranteed to drive you wild.
• Honorable Mention – Osaka, Sushilicious
Best Wine List | The Winery
The wine list at this Midtown bar isn't the longest in town, but it certainly is the most interesting. Many of the vins are bottled on site and, in addition to the traditional Merlots and Chardonnays, there also are pink grapefruit and apple-flavored selections. Can't decide? Order a "flight" and pick your favorite.
• Honorable Mention – Café Cabernet
Best Wings | Wingstop
If you're looking to get your fingers dirty, Wingstop has enough wing flavors to keep your hands busy. With nine flavors to choose from, you can heat up with Atomic Hot and then cool down with delicious Hawaiian. Don't forget to add the best fresh-cut seasoned fries in town to your order.
• Honorable Mention – Corner Pocket, Hobbit Hoagies
Service Providers
Food & Beverage | Service Providers | Shopping | Entertainment
Best Air Conditioning/Heating | Benson's Heating & Air Conditioning
Was it hot enough for you this summer? Benson's helps you keep your cool at home and work with fast, friendly emergency service. There also is a choice of routine service plans (silver, gold and platinum) to preempt breakdowns when you need your heating or air conditioning the most.
• Honorable Mention – Barineau Heating and Air Conditioning
Best Assisted Living Facility | Westminster Oaks
"Come for the lifestyle and stay for a lifetime" is Westminster's Oaks' motto. With a staff trained to meet the specific needs of each resident, Westminster Oaks' beautiful campus offers a variety of activities and amenities to make tenants feel right at home and ensure that every day is a delightful experience.
• Honorable Mention – Woodmont
Best Auto Repair | Newman's Auto Air
It pays to have old-fashioned business values. Newman's Auto Air is known for just that: good, honest, courteous service delivered in a timely and fair manner. So the next time your car has an electrical problem or just needs the AC recharged, check Newman's out. Your wallet might thank you.
Best Builder/Contractor | MyddeltonParker Builders
This family-owned building company helped put Tallahassee on the map when it answered the call to take the lead for designing and constructing the Kadzis home for an episode of "Extreme Makeover: Home Edition." MyddeltonParker takes pride in quality design, construction and renovation of commercial and residential properties.
• Honorable Mention – Affordable Spaces
Best Carpet Cleaner | Stanley Steemer
With its unmistakable big yellow vans, Stanley Steemer Carpet Cleaner has been serving households and businesses in Tallahassee for 27 years. The company offers cleaning for whatever's underfoot, including hardwood, tile and carpet floors. And if your ventilation system is dirty, Stanley Steemer will clean that, too.
• Honorable Mention – Sunrise Carpet
Best Cell Phone Service | Verizon Wireless
Providing the largest coverage in the nation isn't the only thing that makes Verizon Wireless customers happy. The company also offers a Worry Free Guarantee that allows customers to customize calling plans to fit their need. Free calls to friends and family also are available to Verizon users.
• Honorable Mention – Alltel
Best Chiropractor | Dr. Richard Freesmeier
If you suffer from neck or back pain, it may be time to visit Dr. Freesmeier's office. An experienced chiropractor, Freesmeier can help get your body back into proper, pain-free alignment.
• Honorable Mention – Dr. Miller
Best Day Spa | Millennium Nail and Day Spa
Millennium is the perfect place to go for some high-quality personal pampering. After a soothing aromatherapy massage (one of more than a dozen massage options offered), enjoy a pedicure and a hydrating seaweed wrap that will leave your skin feeling smooth and soft.
• Honorable Mention – Chelsea Salon & Spa
Best Dentist's Office | Dr. Russell Rainey
Dr. Rainey crafts picture-perfect smiles using porcelain veneers, tooth whitening, gum lifts and other procedures. He has worked with many Tallahassee patients to shape and shine their teeth. When he's done with your smile makeover, you can flash your pearly whites with confidence.
• Honorable Mention – Dr. James F. Walton
Best Dry Cleaner | O'Brien's Shamrock Cleaners
Shamrock is known for its clean premises and attentive customer service. The staff can dry-clean your shirts, comforters, suits and other items that need special attention. First-time customers often become regulars.
• Honorable Mention – Prestige Cleaners
Best Eyeglass Store | The Hour Glass
Need some new glasses, or picking out your first pair? The Hour Glass is the place to go, with great prices and the widest selection of frames in town. And if you need an eye exam, you can get one on site. The Hour Glass offers the newest designer frames so, in just 60 minutes, you can see in style.
• Honorable Mention – Hatcher Opticians
Best Financial Institution | Premier Bank
With free business checking accounts, super interest checking accounts and other positive inducements, Premier Bank is hard to resist. And you have to love a bank that gives customers free, freshly baked cookies every Friday.
• Honorable Mention – Capital City Bank, Wachovia
Best Flooring (Carpet/Tile/Etc.) | Brian Barnard's Flooring America
At this family-owned business, two generations of Barnards work to supply their clients' flooring needs. The store features a large selection of wood, carpet, ceramic and vinyl flooring, and the staff will help you choose a look that matches the way you live, the look you want and your budget.
• Honorable Mention – Southern Flooring
Best Florist | Blossoms Flowers
Blossoms has been a perennial winner of the "Best of Tallahassee" florist award since 2001. The perfect resource for lush bouquets of roses, lilies and other colorful blooms, Blossoms also offers beautiful gift baskets and silk flower arrangements that are a great way to tell someone "thank you" or celebrate a special occasion.
• Honorable Mention – England's Florist and Gifts
Best Gym/Health Club | Gold's Gym
Looking to beef up, tone those arms or burn off some baby fat? Gold's Gym is the place to go to find your free weights, exercise equipment or group classes. And with three Tallahassee locations, it's never a far trek.
• Honorable Mention – Premier Health & Fitness Center
Best Hair Salon | Haute Headz
The stylists at Haute Headz know their stuff. With periodic trainings and conferences in New York, Orlando, Miami and Las Vegas, they are well versed on the latest styles and best cutting and coloring techniques. Haute Headz can take your look from dull to dazzling with a few snips of the scissors.
• Honorable Mention – Envy
Best Hotel | Wingate by Wyndham
Stay at the Wingate by Wyndham and you'll feel like you never left home. The rooms are pristine, with a modern design and free Internet in every room. Service is tops with the staff, and they serve the best complete continental breakfast in town.
• Honorable Mention – Doubletree Hotel Tallahassee
Best Insurance Agency | Demont Insurance Agency
With friendly, qualified brokers and fully customizable policies, Demont offers a wide range of insurance services for its clients. They offer policies including home and renters insurance, auto and boat insurance and flood insurance. In short, Demont has you covered, no matter what the situation.
• Honorable Mention – State Farm Tom Graham
Best Interior Design Firm | Julian Mathis
With his eye for color and ability to discern how a room should be arranged to make it appear either spacious or intimate, Mathis is truly a master designer. He can give you tips on choosing lighting, window treatments and furniture that will breathe new life into your home.
• Honorable Mention – Sechrest Design Company
Best Landscaping/Lawn Services | Superior Outdoor Services
A clear, quiet pond rimmed with rocks and filled with colorful koi makes a lovely addition to any yard. Superior Outdoor Services can design and install one for you, as well as plant shrubs, lay sod and do all the work your lawn needs to look lush and cared for.
• Honorable Mention – Jerry Nesmith
Best Limo Service | Mike's Limousine
Proms, homecomings, weddings or simply looking good for an important occasion: Mike's has your transportation covered. Not your everyday limo service, Mike's offers a full range of vehicles, from a classic limo to a full-sized party bus or Rolls-Royce convertible.
• Honorable Mention – Classic Limo
Best Nail Salon | Royal Nail
The staff of Royal Nail can paint your nails fire-engine red or do an elegant French tip job in their Thomasville Road salon. Indulgent and relaxing manicures and pedicures will make you eager to show off your hands and feet.
• Honorable Mention – NY Nails, Mane Event
Best Painter: Commercial/Residential | Superior Painting
Boasting clean, courteous and skilled painters, Superior Painting has won "Best of Tallahassee" for two years in a row. Superior does interior and exterior painting, as well as drywall repairs, wallpaper removal, wall and ceiling smoothing, wood rot repair and more.
• Honorable Mention – River King Custom Painting
Best Pest Control Service | Massey Services
Since 2003, Massey has provided premium pest control service to residents and businesses in the Tallahassee area. The company uses eco-, child- and pet-friendly chemicals, so clients don't need to worry about the safety of their family. A visit from Massey is quick and thorough. You'll hardly even know they were there — but the bugs will.
• Honorable Mention – Florida Pest Control, Paul's Pest Control
Best Photographer | Dina Ivory
Weddings, senior portraits, family photos and more — Dina Ivory does them all, and does them well. Ivory specializes in photographing children and infants, but all of her photos are beautiful mementos you'll cherish forever.
• Honorable Mention – Long's Photography
Best Physician's Group | Tallahassee Primary Care Associates
TPCA offers medical care at more than 10 locations across Tallahassee. There are plenty of skilled physicians and specialists to choose from, offering services ranging from family care and pediatrics to diving and hyperbaric medicine. TPCA even offers various medical classes through their clinical education department.
• Honorable Mention – Patient's First, Capital Health Plan, Southern Medical Group
Best Plumbing Service | McNeill Plumbing
Voted "Best of Tallahassee" for three years in a row, McNeill's plumbers are known for being efficient, courteous and effective. McNeill handles everything from leaky faucets to sewer replacement, as well as septic-to-sewer conversions, for residential and commercial sites.
• Honorable Mention – White's Plumbing
Real Estate Agency | Coldwell Banker Hartung and Noblin, inc.
With offices across the country, Coldwell Banker has plenty of agents throughout Tallahassee to fulfill any of your real estate needs. They offer complete real estate services and a little something extra, such as a concierge program that lists recommended providers of necessary services for buyers and sellers.
• Honorable Mention – Shoaf Real Estate Group, Tallahassee Land Company
Best Real Estate Agent | Mike Ferrie
In these rough economic times, selling a house is harder than ever. That's why clients choose to have Mike Ferrie of Prime South Properties on their side. Serving the Tallahassee, Crawfordville, Havana, Quincy and Monticello areas, Ferrie works hard to get you into the home of your dreams.
• Honorable Mention – Georgia Turner, Jimmy Thorn
Best Security System | SafeTouch of Tallahassee
With a guaranteed 45-second response time and two-way voice communication activated when an alarm is triggered, SafeTouch helps keep your family and your home protected. The company offers glass break detectors, wireless motion detectors and other devices that can be installed for extra security.
• Honorable Mention – Sonitrol
Best Tree Service | Gibbs & Culpepper Tree Service
Whether you're looking for an arborist or someone to do land clearing or tree removal, Gibbs & Culpepper has a qualified staff that can help. Operating in Tallahassee since 1995, the company also sells firewood for chilly winter nights.
• Honorable Mention – Bridges Brothers Tree Services
Best Veterinary Clinic | North Florida Animal Hospital
This veterinary clinic gets it right. Whether Fido needs to be boarded for the weekend or Fluffy needs her shots, North Florida Animal Hospital has the professional personnel and facilities to take care of all your pets' health needs.
• Honorable Mention – Paws & Claws, Los Robles Animal Hospital
Best Weight Loss/Control Program | FIT/First Impressions Too
FIT's weight-loss team will keep you motivated and excited about each pound you lose. This medically supervised program, located near the intersection of Capital Circle Northeast and Centerville Road, can help you shed that excess weight and keep it off. The weight-loss regimen FIT recommends involves prescription medication and foods you can buy at the grocery store.
• Honorable Mention – Weight Watchers, First Impressions
Shopping
Food & Beverage | Service Providers | Shopping | Entertainment
Best Antique Shop | Killearn Antique Mall
What sets this shop apart from the rest? According to co-owner Marcia Strazulla, it's not just the unique inventory of fine cutlery, fine art, linens, costume and estate jewelry, but the fact that the shop also raises money for the Tallahassee Senior Center's Senior Foundation. "So besides being kind of a neat store, we also do something for the community," Strazulla says.
• Honorable Mention – Sally Rude Antiques & Fine Art
Best Furniture Store | Ashley Furniture Industries
Ashley's has beautiful leather and upholstered couches and chairs, polished curio cabinets, elegant four-poster beds, chests, armoires and the other items you need to furnish your home.
• Honorable Mention – Haverty's
Best Gift Store | My Favorite Things
For those who love beautiful housewares, it's tempting to just go into My Favorite Things and feast on the Lenox, Wedgwood and Waterford eye candy. Vera Bradley bags, glass candlesticks and other items make this a great place to find the perfect gift for someone special.
• Honorable Mention – Blossoms Flowers
Best Home Decorating | Pier One Imports
When something's gotta change at home, Pier One is there for all your decorating needs. Whether you'd like to completely revamp your living room or just need a few holiday decorations, Pier One has the decor you're looking for — and at an affordable price.
• Honorable Mention – Kirkland's
Best Jewelry Store | Robert's Jewelry and Design
Pear cut, princess cut, emerald cut, brilliant cut, oval cut. For the uninitiated, navigating the world of gems can be daunting. But Robert's sales associates can help answer your questions and find the perfect gift for yourself or a loved one. Voted "Best of Tallahassee" for five years in a row.
• Honorable Mention – Gem Collection
Best Kids' Clothing | Gap Kids
It's hard to resist the cute kids' clothes at Gap Kids. It's one of those stores where the adults look at the outfits and say, "If that were in my size, I'd wear it!" Your kids will be looking cool for school arrayed in polo shirts and jeans or one of the store's colorful print dresses.
• Honorable Mention – Tres Chic
Best Men's Clothing | Nic's Toggery
Why should the ladies have all the fun? For more than 50 years now, this local haberdashery has been creating signature styles for men with discriminating tastes. And if you're adrift when it comes to suits, ties and other masculine accoutrements, fear not: Nic's personal consultants will make sure your dress and casual clothing's style and fit have you looking your best.
• Honorable Mention – Dillard's
Best Nursery/Garden Center | Tallahassee Nurseries
Business is still budding for Tallahassee Nurseries, which has spent the past 71 years dedicated to beautifying the community. The nursery offers everything needed to create a verdant backyard hideaway, including tips to create a garnet and gold flower garden bursting with Seminole pride.
• Honorable Mention – Esposito Garden Center
Best Pet Supplies | PetSmart
Looking for your favorite feline's special food — and to pick up a cat toy while you're at it? How about getting your pooch pal a haircut, some training lessons and a vet visit? You can do all this and more at PetSmart, a one-stop shop where you can even bring your pet along to help choose its own treat.
• Honorable Mention – Petco, PAWS Pet Boutique
Best Women's Accessories/Shoes | Dillard's
Whether you're looking for special occasion shoes, jewelry or just an everyday, reliable watch, Dillard's is the place to go. The staff will help you find just what you need, and with frequent sales, you're bound to find something that fits within your price range.
• Honorable Mention – Fabreana
Best Women's Clothing | Cole Couture
Catering to women who are both professional and fun-loving, Cole Couture offers vintage and chic designs that won't leave your wallet empty. Cole Couture provides timeless styles for all ages and creates an intimate setting where shoppers can enjoy a quaint boutique experience.
• Honorable Mention – Dillard's, Macy's
Entertainment
Food & Beverage | Service Providers | Shopping | Entertainment
Best Art Gallery/Museum | LeMoyne Center for the Visual Arts
With its regularly rotating art exhibits, year-round art classes and special art-related cultural events, LeMoyne is a haven for artists and art connoisseurs alike. The restored antebellum home where the center is housed overlooks the Helen Lind Sculpture Garden, which contains 13 sculptures and fountains designed by seven Florida artists.
• Honorable Mention – The Mary Brogan Museum of Art and Science
Best Community Event | Springtime Tallahassee
More than 200,000 people gather each year to celebrate at Springtime Tallahassee. On top of a fabulous, float-filled Grand Parade, the Jubilee in the Park includes four entertainment stages, hand-crafted items for sale and a children's park. It's an event that's fun for the whole family during the best time to be outdoors in Tallahassee.
• Honorable Mention – First Friday
Best Golf Course | Golden Eagle Golf & Country Club
Designed by renowned golf course architect Tom Fazio, Golden Eagle offers up 18 holes for the experienced or novice golfer. Thanks to Florida's natural beauty, as well as the superior design of the course, Golden Eagle is a cut above the rest. It was rated the most challenging golf course in Florida in 1986 by the United States Golf Association and remains the best in Tallahassee in 2009.
• Honorable Mention – SouthWood
Best Place to be Seen | FSU Football
The smell of barbecue and beer float through the warm fall air as thousands of students, loyal alumni and Tallahassee locals gather for an FSU tradition — football. With garnet and gold painted across the faces and shirts of more than 80,000 spectators, no matter what your walk of life, you're a Seminole at The Doak.
• Honorable Mention – Governor's Club, Simply Entertaining, Downtown Getdown, FSU – any other sport
Best Place to Take the Kids | Zoinks Kidstation
Zoinks is the place to be if you're under 12 in Tallahassee. With more than 17,000 square feet of trampolines, climbing areas, slides and mazes, Zoinks will create a fun environment for all. It offers great birthday party packages, as well as a separate toddler room for the smaller tykes. Parents can even relax in the adult area with flat-screen televisions and full Internet access.
• Honorable Mention – Fun Station, Tallahassee Museum
Best Sports Bar | AJ Sports Bar and Grill
With an open-air dance floor, pool tables, dartboards, a live stage, and nearly 50 TVs and projectors, AJ's is more than just a sports bar — it's an experience. If you get tired of your favorite team losing, you can run upstairs and make the entire floor literally bounce as you dance to your favorite hits from the '80s through today.
• Honorable Mention – Corner Pocket, Fourth Quarter
Best Weekend Getaway | Destin
Sugar-fine sand. Azure waters and towering dunes. Toasting glorious sunsets over the Gulf of Mexico with a fine glass of wine. Plenty of good eating mixed with fun things to do and a wide variety of places to stay. All this waits just a short drive from Tallahassee along the pristine shores of Destin. For romance or family time, it doesn't get better than this.
• Honorable Mention – St. George Island
Best Corporate Citizen (Business) | Blossoms Florist
Serving Tallahassee since 1994, Blossoms Florist has provided premium floral services to nearly every part of Tallahassee. The giant pink building on North Monroe Street is hard to miss, with three showrooms showcasing a full array of unique gifts, as well as gourmet treats and floral arrangements. Blossoms continues its tradition of giving generously to many local charities and charitable events.
• Honorable Mention – Ron Sachs Communications, Capital City Bank Group
Best New Business | FIT/First Impressions Too
Tired of the same old weight loss promises that are long on promise and short on results? Frustrated by not being able to break that final plateau? Readers have been impressed with the debut of First Impressions Too, Inc., which offers tailor-made programs supervised by a team of educated staff, registered nurses and a physician.
• Honorable Mention – Circa Sushi