15 Valentine's Events You Don't Want to Miss
Check out local events happening all week long for Valentines and Galentines alike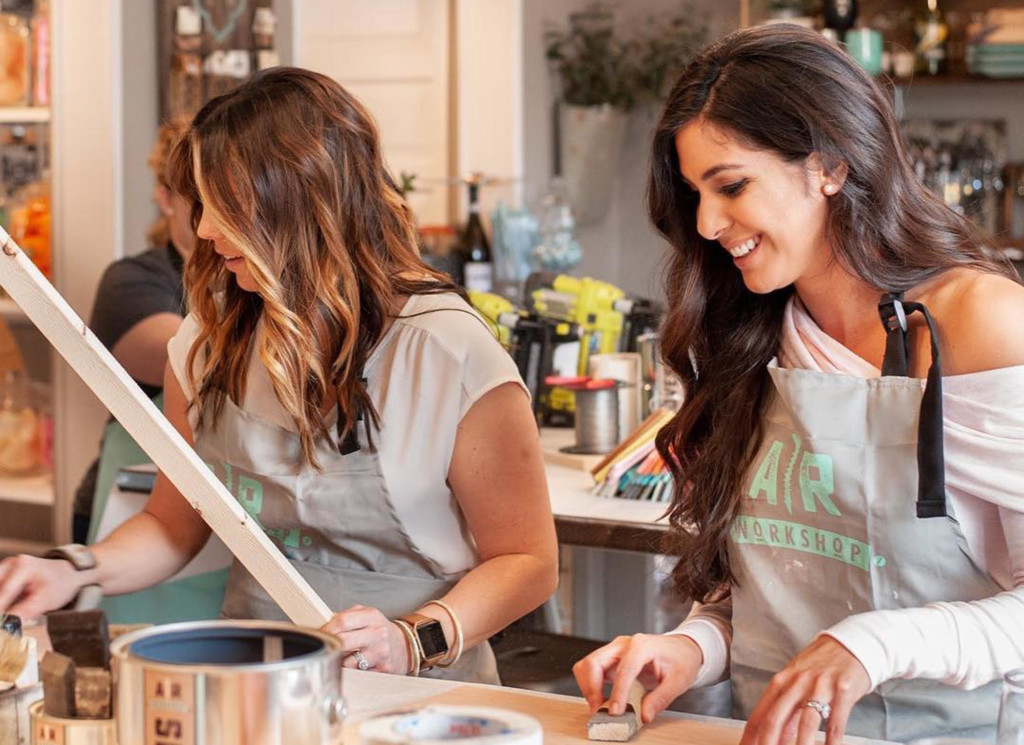 Feb 11th
1. Bromance Monday at Brass Tap- Midtown
Celebrate the guys in your life at Bromance Monday, one of Brass Tap's events during their #WeekofLove specials.
For $25 get : 2 beer flights, 2 shots of Knob Creek whiskey plus a pretzels + beer cheese appetizer
Check out more about the event here.
Feb 12th
2.Valentine's Trivia: Romantic Comedies at Brass Tap- Midtown
Grab your girls and head over to another #WeekofLove event at Brass Tap- Midtown. Trivia from at 7pm-9pm and $2 Chocolate Kiss Shots from 7pm to close.
Read more about the event here.
Feb 13th
3. Galentine's Day Wood Workshop at AR Workshop Tallahassee
Celebrate Galentine's Day at AR Workshop Tallahassee by taking a DIY class to make a Plank or Framed Wood Sign, Lazy Susan, Tray, Centerpiece Box, Porch Sign or more. The workshops are BYOB.
For more information, check out the event here.
4. Sweetheart Sips at Tallahassee Nurseries
From 6-8pm, treat yourself, friends, or a valentine while you sip on a glass of wine or local beer, listen to live music, and shop! The free event includes free roses for the first 100 ladies, exclusive sales, food trucks and more.
Read more about the event here
5. Galentine's Day: Ladies Celebrating Ladies at Madison Social
Who doesn't love Brunch on a Wednesday afternoon? Grab your friends and head over to Madison Social from 11:30am-4pm, for a special Galentine's brunch with a new and improved cocktail menu.
Read more about the event here
6. Galentine's Celebration! Just Us Girls! At Community Thrift Market
Spend your Galentine's Day with your thrifty friends and head over to Community Thrift! There will be food and drinks, giveaways, and fun specials!
Read more about the event here
7. Galentine's at the Barre at The Refinery
Visit The Refinery and celebrate your girlfriends with some Pink Lemonade, Rosè, and treats! They have certain classes dedicated to you and your girls, raffles, and more.
Check out more about the event here.
8. The Sensory Experience-Lovers Edition
Enjoy a one-of-a-kind experience with Food Network Chopped Champion, Chef Shac, as she creates a 4-course meal and wine selection that will wow your tastebuds. Enjoy this fine dining experience Wednesday-Friday. Seating is limited so get your seat soon!
Read more about the event here.
Feb 14th
9. Valentine's Dinner at Alfred B. Maclay Gardens
Enjoy a dinner for two at the historic Gardner's cottage on February 14th from 6:30-9pm. The dinner includes a bottle of wine, choice of entree, and more.
Read more about the event here.
10. Valentine's Dinner Buffet at Bricks and Brass
Enjoy a romantic dinner at Tallahassee's newest venue. There are two seating times available for reservations: 6:00PM & 8:00PM and the full dinner buffet includes valet parking, and more.
Check out all the details here
11. A Celebration of Love at Red Hills Village Retirement Resort
Celebrate love with dinner and dancing from 5-7pm. The dinner will be prepared by Chef Jabari and his culinary team.
Check out more about this event here
12. Valentine's Day Sips and Stories at the Historic Capitol Museum
Make Valentine's Day unforgettable with a trip to the Historic Capitol Museum for the Sips and Stories Tour. In a casual after-hours experience led by Museum staff enjoy three wine and cheese tasting stations. Reservations are required and space is limited. $20 for Members / $25 for non-Members.
See more information about this special event here
13. Valentine's Day! Couples Wood Project at AR Workshop Tallahassee
Enjoy a crafty night with you loved one. Choose to share a project or each make one! There will be complimentary champagne and food.
Read more information about this event here.
14. Gallontines Day at Deep Brewing Co.
If you're looking for something different to do this Valentine's Day, join Deep Brewing Co. for their third annual Gallontine's Day event. They will be releasing their "Box of Chocolates" inspired beers and Tally Mac Shack will be making an appearance.
Read more about the event here.
Feb 15th
15. Couple's Class- A View for Two at Painting With A Twist
A fun night for the artistic couple. You'll each paint your own canvas and they'll go together as a set. The night is BYOB.
For more details, check out the page here.