The Best Yet
The 2021 Best of Tallahassee awards spread joy via screens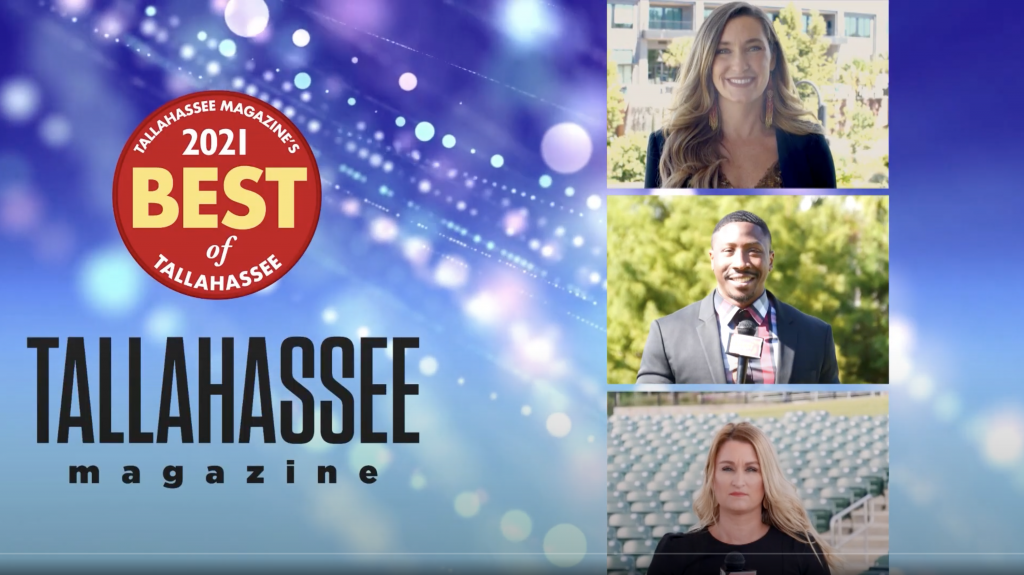 Televised awards shows have long held appeal. There is an air of glitz and glamor, yet they are approachable, inclusive and all are invited. For the second time in its 23-year history, Tallahassee Magazine hosted the Best of Tallahassee awards as a broadcast event.
On Oct. 28, viewers were able to join in the festivities from the comfort of their homes or at watch party locations throughout the city as the hour-long show aired in prime time on Fox 49. The hosts were Live! In Tallahassee and Tallahassee Magazine, who surprised winners at eight locations and announced winners and honorable mentions from more than 100 categories.
The voting began in May as readers were asked to cast their ballot online for businesses in the categories of food and beverage, service providers, shopping and entertainment. The surprise was revealed on television, with the subsequent list of winners appearing in the November/December issue of the magazine.
The program began with associate publisher McKenzie Burleigh speaking on the history of the event and thanking both viewers and the many businesses that were honored. A representative with the Junior League of Tallahassee explained that although the event was not ticketed, the show was still benefiting the league's mission of improving the lives of children and families. Community members were encouraged to donate online to the Junior League of Tallahassee.
Transitioning to locations throughout town, Rowland Publishing senior integrated marketing specialist Javis Ogden visited the locations of each event partner to announce the winners. Live! In Tallahassee host Joel Silver and Rowland Publishing administrative and customer service specialist Renee Johnson surprised eight local businesses to capture their reactions to finding out they were winners.
The first stop was with presenting sponsor Ox Bottom Animal Hospital. Dr. Lauren DiMartino-Combs provided information on her practice and their honor of being the presenting sponsor of the event. From there, the winner revelations started with the food and beverage category.
Additional partners who opened their doors for winner announcements included RedWire, John Gandy Events and the University Center Club. In between announcements, footage revealed watch parties and celebrations at several businesses, including: Food Glorious Food: Best Dessert,
El Jalisco: Best Mexican Latin American Restaurant, Russell B. Rainey DMD: Best Dental Practice, Millennium Nail and Day Spa: Best Day Spa and Nail Salon, Superior Painting: Best Residential Painter, Drip Drop Fitness: Best Specialty Fitness Studio, Narcissus: Best Women's Clothing and Women's Shoes, and Capital City Country Club: Best Golf Course.
Those watching had the opportunity to be winners as well. Throughout the evening, a QR code appeared on screen, and viewers were encouraged to scan it for the chance to win gift baskets filled with over $4,000 in products and gift cards donated by winning and runner-up businesses.
As many have learned to do the past two years, the show adapted. Instead of a grand event, the visiting of local businesses was more intimate and sentimental as viewers were able to witness winners in their own place of business, rejoicing in unique ways.
With the exposure that television presents, more people than ever were able to notice our community's best in business, from familiar faces at our local eateries and your family's favorite physician to the indoor and outdoor spaces that provide function and fun. In a tumultuous year, these businesses not only survived but also were able to thrive with the support of dedicated customers and consumers.
Miss the event? View the 2021 Best of Tallahassee broadcast on Fox 49 thanks to Live in Tallahassee! below. 
Find the roster of the 2021 Best of Tallahassee winners here.
Special thanks to these area Tallahassee businesses for donating prizes to the Best of Tallahassee broadcast giveaway:
AMWAT Moving Warehousing Storage
Benson's Heating & Air Conditioning
Bowden's Carpet Cleaning, Inc.
Island Wing Company, Rock n Roll Sushi, & Tropical Smoothie Café
Junior League of Tallahassee ­
North Florida Spine and Wellness