An Easy Way to Reduce Pollution and your Carbon Footprint
By Shannon Ruark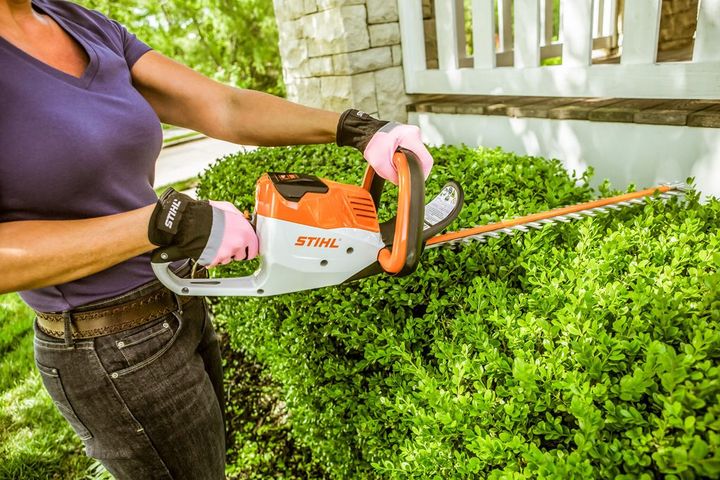 Did you know one hour of lawn mower use is equivalent to eleven hours of driving in a new model car? Another way of thinking, one lawn mower hour is equivalent to eleven cars running for one hour.
Think about that for a second, it seems impossible, but the EPA supports that number.
So how do we reduce pollution? You use a battery!
Esposito Garden Center is one of Tallahassee's Platinum Stihl dealerships, and as such we carry every product manufactured by Stihl. Over the past few years, we've noticed a trend away from gasoline-powered and towards battery-powered equipment.
As first we were skeptical … a battery-powered chainsaw? Lawnmower?
Over time, and after discussing performance with our customers, we realized that battery-powered equipment is just as powerful, lighter, requires no real maintenance, and is an option every customer should consider.
Ok, here's the scenario, we've all been there: It's Saturday morning, you're ready to do some yard work, and the (fill in the blank) won't start. Now what?
You either tinker with it or load it up and bring it to the shop. Saturday morning is wasted. With Stihl's battery-powered equipment, that won't happen (unless you don't charge it), plus they reduce environmental impact without reducing functionality.
And they're quiet.
The new battery powered Stihl hedge trimmer produces noise at a volume equivalent to a quiet office, the blower at a level equivalent to normal conversation, and the mower produces just 80 decibels, which is only slightly louder than a vacuum cleaner.
In addition to a reduction in noise pollution, these tools produce zero exhaust emissions and require no fuel. There is virtually no maintenance required, there are no starter cords to struggle with, no extension cords to trip over, and no messy fuel or odor.
They are great options for people who aren't able or interested in carrying around heavy machinery. Tools from this line are lightweight and start up in mere seconds with the push of a button. With blowers starting at just 4.4 pounds, even grandma can help with the yard work!
Esposito is open daily, and we're happy to get you started and make your life easier in the process.
Esposito Lawn & Garden Center  |  2743 Capital Circle NE, Tallahassee  |  (850) 386-2114 |  EspositoGardenCenter.com